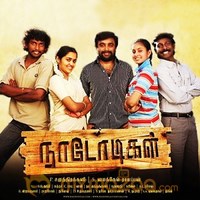 Nadodigal Review
by

MyMazaa.com
---
Wanna know the best quote on friendship? 'Friends are someone who knows the heart in your song and can sing it back to you when you have forgotten the words'. Incisively, 'Naadodigal' centers on group of friends who polish this motif with a stunning version. Moreover, Sasi Kumar is keen on picking right scripts that revolves strongly on 'Relationships'. When 'Subramaniapuram' spelled about betrayals and pitfalls of friendship and 'Pasanga' had a much equivalent appeal alike 'Children of Heaven'. Here comes Nadodigal that ennobles the best friendships.
Sasi Kumar is brimmed with extraordinary appeal with onscreen presence. Perhaps, he has a unique charisma that carries off with audiences' likeliness. Well, Director Samuthirakani does a marvellous directorial blending an interesting script with a gripping narration.
Set at the backdrops of Rajapalayam, the film revolves around three friends; Karunakaran (Sasi Kumar), a graduate of B.A. History anticipating for a Government job, Pandi (Kalloori fame Bharani) an unsuccessful youngster overwhelming with his own dreams and Chandran (Vasanth Vijay) ready to kick-start his business. Nallamma (Ananya) is deeply in love with her cousin boy Karuna while his sister Pavithra (Abhinaya) has great likeliness for his pal Chandran. Their lives are so elated like-in paradise and they've no worries ahead. But things take a twist of turn on Karuna's friend Saravanan from Namakkal… This lad is the son of Ex-MP Sangvi who's deeply in love with the city's bigwig Palanivel Rajan daughter Prabha (Shantini Theva).
These friends come to the rescue mission of uniting the young couple. It's a bittersweet mission as Karuna loses his eyesight temporarily, Pandian turns to be deaf while Chandran's leg is disembodied. But they are gleeful for having extended a great aid in their nuptials. Nevertheless, they're blown out of waters when the married couple is ready for divorce… Will they spare this annoying act of Saravanan-Prabha gearing up for second marriage?
Sasi Kumar steals the show with his top-notching performance. He emotes fantastically to all situations. Let it be his relented shades or the emotional outburst in penultimate sequences; he's awesome. Much accordingly Vijay Vasanth delivers a stupendous act and Bharani steals the show. On the grounds of hilarious lines as well heart-touching moments, the actor has gone ahead in places. Anaya does justice to her role while Abhinaya has a long way to go. Ganja Karuppu deserves special mention for fantabulous comedy tracks.
Sundar C Babu's musical score goes commendable especially with the number 'Sambo Siva Sambo' presented with best appeal. Cinematography has innovative placements adding to the touch of screenplay's pace.
Director Samuthirakani starts-off with a delighting ambience later hop-skipping into a speedy tensed situation. Post-intermission, there's a complete breakdown that looks quite ungratified for masses. But scenarios are shifted with a sudden twist in penultimate sequence.
On the whole, 'Naadodigal' has the best formulas of striking jackpot and top the charts of box office in forthcoming weeks.