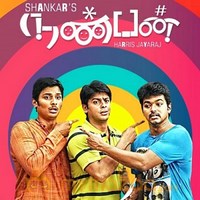 Nanban Review
by

MyMazaa.com
---
Story
Panchavan Parivendan aka Pari (Vijay) will join engineering and while being ragged by seniors, Pari meets co-students Venkatramakrishnan (Srikanth) and Sevalkodi Senthil (Jeeva). Pari, who always says 'All izz well' handles the situation in an intellectual way which makes all three close friends. Principal Virumaandi Sandhanam (Sathyaraj) called Virus is strict in his discipline but Pari who takes every issue cool and humorous manner gets wrong impression in his first meet. Srivatsan aka Silencer (Sathyan) always degrades others specially Pari and friends.
Senthil is from poor family and so tries to study hard by being away from fun though he likes to enjoy his life while Venkat wants to be photographer but opts for engineering for his parents. The three attends a wedding without invitation where Pari meets Anariya (Ileana) in her sister's wedding and gets to know she is youngest daughter of Virus and is engaged to an egoistic guy. But after few circumstances Anariya and Pari falls in love. Meanwhile, the graduation course gets completed and each of them heads their own way. How life turns and the twists they notice when Senthil and Venkat go in search of their friend Pari is all about Nanban.
Performances
Nanban shows the teamwork of Vijay, Jeeva, Srikanth and others.
Vijay played a performance oriented role with lot of humour and intelligence. Vijay worked hard and gave his best. Vijay had a lip-lock with Ileana, who added glamour to the tale. Nanban is one of the finest performances of Vijay.
Ileana gave a charming performance along with Anuya who played Anaria's sister. Ileana reprised the role of Kareena but did it in her own style. She looked rocking and Nanban might get her good number of Kollywood projects in her kitty.
Jeeva and Srikanth are the pillars for Nanban, who has the equal preference to Vijay's role
Jeeva exhibited good performance as a boy from a lower middle class family aiming high while Srikanth has done the justice. Sathyan had one of the key roles in the film which gives the ending thrill for Nanban. He has done a fine job as a book worm and an irritator to others which makes us split in laughter. Sathyaraj in his own way gave his regular yet best performance as Virus.
Technical Analysis
Nanban shows the teamwork and timely execution. Shankar should be appreciated for the apt casting and the direction as always is on first class and Nanban joins the list of his finest outings.
Nanban is technically high and it has all the ingredients by Shankar. Manoj Paramahamsa's cinematography is on top-notch and each frame in the film shows lavishness. Editing by Anthony is racy and slick. Harris Jayraj compositions are good but he could have worked more on the background music of the movie.
Screenplay penned by Shankar and Madhan Karky is good though at places could have been more racy. The dialogues penned by Madhan Karky were almost similar to that of 3 Idiots but there are some riveting lines to relish the taste of Kollywood audiences. Art by Muthuraj was a good support to high the commercial values of Nanban. Gemini Film Circuit made Nanban with high technical values.
Analysis
Ever since Nanban has been announced as the remake of blockbuster hit 3-Idiots, the film is surrounded with huge expectations. Shankar has stuck to the original script with bringing in the Tamil flavour. Nanban is the genuine remake from the genius combination of Vijay and Shankar. The message is neatly narrated with interwoven script. Follow your heart and chase your dreams by discovering your passions and success will approach you. Right cast, well captured emotions, good laughable scenes and beautiful narration with rich production values makes Nanban a wholesome entertainer.
Final Verdict
Shankar and Vijay's Nanban is an out and out family entertainer, with three E's entertainment, emotions and enlightenment. Nanban is for everyone who appreciates good cinema.