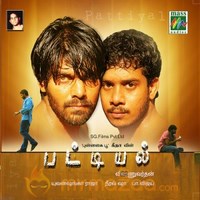 Pattiyal Review
by

MyMazaa.com
---
Chennai may not have an organized underworld like Mumbai does. But if it had, it would certainly look like the one that Vishnu Vardhan has dreamt up in Pattiyal. And in this soft underbelly of a society he looks for some heart.
The film has a brooding, disturbing quality ---- reminding a range of directors from Quentin Tarantino to our own Ram Gopal Verma. The thing is that Vishnuvardhan has combined old-fashioned style of story telling with some telling technical virtuosity.
Backed by exemplars like Yuvanshankar Raja, he has come up with a film that will have an appeal across the board. He has also managed to wrench out believable performances from the top four.
The story begins around Koshy (Arya) and Selva (Bharath), the quintessential back street boys, the hatchet men of Sami (Cochin Haneefa). Koshy is an unblinking man with nary a feeling for life. Selva, deaf and dumb, is equally intrepid. But he has a heart ticking beneath the dark, dire exterior. Killing is their life.
But life arrives in the life, so to speak, in the form of Saroja (Padmapriya) and Sandhya (Pooja). The former falls for Koshy's machismo while the latter has a thing for the hidden softness of Selva.
When Koshy and Selva set out to bump off Nachimuthu Gounder (Santhanabharathy), things come to head and leads to a violent and a stunning denouement.
Arya is stand out as the emotionless Koshy. His brooding eyes give the right perspective to a tough-as-nails killer. But Bharath, in a much more complex and bankable role, hits all the right notes. After Kadhal, he is again in top form getting all the nuances just about right. The two girls, Padmapriya and Pooja, seem inspired choices. They have got the right understanding and carry off the role adroitly. Cochin Haneefa is always very realistic to watch.
Nirav Shah's camera is of the highest quality. His lighting and innovative angles deserve a special mention. Yuvan is the right music director for such a movie. He gets it all pat right. The editing, Srikar Prasad's, also provides the film the right momentum.
You can always see shades of Hollywood and Bollywood gangster films in Pattiyal.
But Vishnu Vardhan has managed to package it all with the vibrancy and virtuosity.