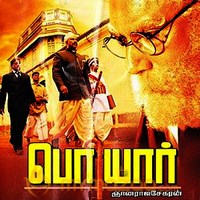 Periyar Review
by

MyMazaa.com
---
Director Gnanarajasekaran proved his mettle chronicling the life of poet Bharathi in his previous attempt. He has now gone a step ahead to record the happenings in the life of the rationalist leader E V R Ramasamay Naicker aka Periyar, who launched a crusade against caste and creed in Tamil Nadu.
A staunch leader with strong but often contentious approach, Periyar predominantly fought against the Brahmins. He was mentor and a role model to several Chief Ministers including Anna and M Karunanidhi. His brainchild Dravidar Kazhagam is still very active and holds a say in Tamil Nadu politics.
His legacy to the State is still a matter of debate. To have taken such a subject for cinematic exploration is in itself pretty brave. But Gnanarajasekhran plays it all safe and doesn't take extreme positions. Instead, he has almost gone for a sanitized version of a larger-than-life leader's life.
Treading a safety path, Gnanarajasekaran has taken pages from the life of Periyar, which many are familiar with. He has pepped it with drama elements to make it an engrossing tale. The script makes the move work.
Doing a movie on a leader, who has won a place for himself in the history, is no easy task. It is walking on a tightrope, a one wrong portrayal would lead to chaos. But Gnanarajasekaran has done it with aplomb.
Sathyaraj playing the role of his life has come up trumps. It is a refreshing change to see Sathyaraj in the role of Periyar. In fact, the make-up and the physical demeanor all fit him to T. He has played the role with great caution not going overboard.
Gnanarajasekaran deserves a pat for choosing artistes for all other characters. Jyothirmayi (Nagammai), Kushboo (Maniammai), directors S S Stanley (Anna), Arthikumar (Rajaji) or Vasu Vikram as M R Radha is very apt.
Those who are familiar with history and the life of Periyar would find the movie all the more interesting. Ramasamy (Sathyaraj) grows up in the family of a God-fearing Naicker family. The iconoclast in him makes him to be an atheist. He fights against social evils in his hometown Erode and eventually incurs the wrath of his father. Married to Nagammai (Jyothirmayi), Ramasamy succeeds his father in his business and also wins a name for him in the society.
Rajaji and his men persuade Periyar to join Congress. However with his demand for reservation for the backward classes rejected at Congress meetings, he is forced to come out of Congress to launch a crusade against Brahmin domination in the society.
His spearheads Vaikom, protest against toddy shops and soon floats Dravidar Kazhagam.
His proteges Anna Durai and M Karunanidhi, after developing differences on certain issues float Dravida Munnetra Kazhagam (DMK) and ends up capturing power in Tamil Nadu only with a vision to realize Periyar's dreams. They still command a respect for Periyar.
Until his last breath, Ramasamy, who was fondly called by his followers as Periyar, continues his crusade against upper class.
The intimacy shared between Rajaji and Periyar, though they have different ideals, Gandhiji's respect for Periyar among others have been narrated well on the screen.
Sathyraj is decidedly top class. That he is a real-life follower of Periyar makes matters easy for him. His conviction shines all through.
Kushboo and Jyothirmayi are inspired choices as they fit the role very aptly.
Vidyasagar's background score gives a fillip. He has used instruments that were prevalent during Periyar days. Equally appealing is Thangar Bachan's cinematography. B Lenin's crisp editing and Vairamuthu's hard-hitting lyrics against caste systems sits well on the screen.
Amidst regular cinema, Periyar ushers a fresh feel thanks mainly to director Gnanarajasekaran's hard work.