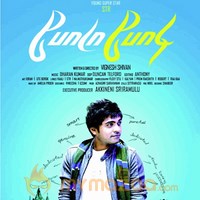 Podaa Podi Review
by

MyMazaa.com
---
A girl extremely modern, ambitious, independent, talented. A guy; stereotypical Indian alpha male, over-possessive, insecure, unnecessary hang-ups. Generally in real life this couple would eventually break up. In reel life they get married and have kids.
Poda Podi is a modern day Rom-com that doesn't really live up to expectations. Arjun played by Silambarasan is an animation designer in the film (though in the entire movie he is either shown chilling with his girlfriend or partying). Nisha played by Varalaxmi is a dancer and aims to win a competition called "Letz Dance" in London. Arjun and Nisha end up falling in love, getting married and having a kid (rather quickly, all of this in the first half itself). Things become really difficult when the insecure and overly-possessive Arjun starts taking control of Nisha's life. Things never really fall into place for the both of them (Arjun even gets her pregnant on purpose so she leaves dancing). Even after all these discrepancies they manage to stay together because they are so "in love" with each other. These kind of things don't even happen in our best/wildest dreams, let alone a movie.
Poda Podi has a ridiculous script. The acting was way below par. The direction was not really impressive. The only good part about the movie were the dance sequences and some really impressive dancers. The music that accompanied the sequences were also pleasing to the ears. Rest of the movie was complete bat-crap crazy. This is the kind of movie that probably gives false hopes to youngsters and encourages them to do stupid things. Not really worth the effort, the money or the time.