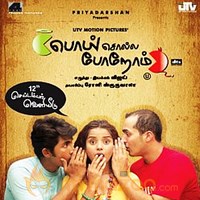 Poi Solla Porom Movie Reviews
Poi Solla Porom Review
by

MyMazaa.com
---
All credits to director Vijay for faithfully remaking Khosla Ka Ghosla.
Dealing about land sharks in a busy city like Chennai, the movie has comical touch all through entertaining the audience.
Vijay has recreated the magic of Jaideep Sahini's original well to suit the Tamil audience. The movie starts with a funny scene and what is commendable is that the fun continues throughout. Talented stars like Nedumudi Venu, Cochin Haneefa, Nasser and Mouli have been ably supported by the young brigade.
Sathyanathan (Nedumudi Venu), a retired government employee in Chennai, decides to buy a piece of land to construct his dream house.His elder son Uppilinathan (Karthik), a computer engineer, plans to go abroad for work. His younger son Viswanathan (Om) is a carefree youth, leading a happy life.
Sathyanathan hopes that his sons would help him build his dream house on the newly purchased plot. Uppili applies for a US visa and decides to go for a name change. Sathyanathan gets a rude shock when he realizes he's been duped by the broker (Cochin Haneefa). The land has been occupied by a fraudulent businessman Baby (Nasser).
When all attempts by Sathyanathan to get back the land end in vain, Uppilinathan steps in. With the help of his friend Amritha (Piya) he enacts a drama featuring father whom everyone calls Daddy (Mouli). Uppili is aided by his visa agent Asif (Bosskey) - a former accomplice of baby. They hatch a clever scheme to beat Baby at his own game. Nedumudi Venu, Nasser and Mouli walk away with all honors. Mouli steals the show posing as a rich NRI businessman. Aravindh Krishna's cinematography, music by M G Sreekumar and Anthony's editing are the hallmarks of the movie.
Watch out for €˜Poi Solla Sorom€™, produced by UTV and Four Frames, it is a movie for those who love comedy.