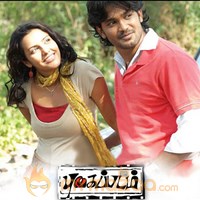 Pugiapadam Review
by

MyMazaa.com
---
'Pugaipadam' is yet another campus love story which tries to make it with the time tested formulas. The good thing is that it succeeded to a fair extent being close to reality and avoided many clichés usually seen in campus love stories.
Guru (Sivam), Nandha (Nandha), Bala (Harish), Krishna (Amjadh), KK (Yamini) and Gowri (Mrinalini) are friends at an engineering college in Kodaikanal. They form their own gang and enjoys the college until, Shiny (Priya Anand) enters the scene. Shiny is the daughter of the head of the department George (Shanmugasundaram) and she too mingles with the gang easily. Their life happily flies.
Meanwhile Krishna falls in love with Shiny and she too reciprocates the love. But they decide not to reveal their feelings to any one else, not even to other members of the group. After completing their studies, time comes to bid farewell. At that time Krishna and Shiny reveal their love for each other and their plans to get married. Then as a twist Bala attempts to end his life and what happens to the gang of friends after that is the rest of the story.
The credible twists in the story and an unpredictable climax of the film are some things not seen before. The director has maintained a good tempo throughout the film. The film tries to be honest and keeps you engaged.
Congratulations to the young cast who carries the film well. All of them have given good performances in their very first film itself. The new faces render the much needed freshness to the film. Priya Anand as Shiny is really good. Shanmugasundaram, Neelima, Venkat and professor Gnanasamandhan are also there.
Gangai Amaran as the music director shoulders some of the responsibility of the director with his decent scores. Vijay Amstrong's camera captures Kodaikanal as pleasing as it could be.
Debutant Director Rajesh Lingam who is a product of Selvaraghavan continues the legacy by selecting a friendship-romance- drama to debut. He has done a commendable job in his first. He has proved he has the talent and if he gets another great script for his next film he is sure to impress the audience even further.
On the whole Pugaipadam may not be first big film of the year but it has definitely made the New Year begin with a lot of promise.