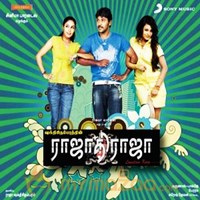 Rajathi Raja 2009 Movie Reviews
Rajathi Raja 2009 Review
by

MyMazaa.com
---
"Does glamour sell in Kollywood? Producer - director Sakthi Chidambaram firmly believes so. His heart seems to beat for an overdose of glamour, laced with commercial masala elements. 'Rajadhi Raja' starring Larencce Raghavendra and a bunch of five heroines is an attempt by Sakthi Chidambaram in that direction."
The movie is an extension of his earlier films which were predominantly 'commercial cocktails'. Sakthi Chidambaram has tried to woo front-benchers with Rajadhi Raja, which has crass dialogues from the word go. There is action, romance and bloodshed too besides half-a-dozen racy songs too.
The director could have avoided double entendre dialogues which makes one squirm in their seats. Though Censor had muted several scenes, still many had still escaped their scissors.
Raja (Larencce), a native of Coutrallam, is a happy-go-lucky-youngster. Tragedy strike his life when his father loses his hand when a doctor in an inebriated condition operates on him. As expected his father is gagged by cops and lawyers. They assault him. In his death bed, his father gets a promise that he would make his three brothers into a cop, lawyer and doctor. Though Raja realises his mission, he falls for his own acts. The trio (who become doctor, policeman and a lawyer) gang up with a baddie Shyla (Mumtaz), a gangster, who rises to become a Minister. It is up to Raja to end their atrocities and teach them a lesson. In between, Raja comes across young women (Snigdha, Kamna Jethmalani and Meenakshi) and sings foot-tapping romantic duets with them.
The story is oft-repeated in Tamil cinema, but Sakthi Chidambaram has opted to give it a local flavour. The comedy and glamour are laced throughout the script only to appease the front-benchers, but they leave a bad taste in mouth.
Larencce Raghavendra has tried to imitate Rajinikanth, while Mumtaz hogs limelight playing a dreaded gangster. She fits the role like T. Karunaas hogs enough screen space coming all through the film with Lawrence. The rest of the heroines serve the purpose of oozing glamour. Karunaas, who makes his foray as music composer with 'Rajadhi Raja', has come up with songs that are loud (especially the remix number "Elandha Pazham").
All said, 'Rajadhi Raja' is like a king sans his crown.