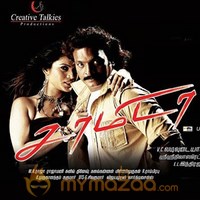 Saamida Review
by

MyMazaa.com
---
Movies that revolve around the life of gangsters are ruling the roost in Kollywood and Bollywood. In the recent past, a host of films seemingly inspired by the underworld life was released and a few of them went on to rake in huge moolah.
Debutant director Vadivudayan's 'Saamida' is the latest to join the list. The entire story unfolds in the temple town of Kasi. It narrates the love and affection that prevails between a woman (a don) and her trusted aide. The latter's life undergoes a change after he falls in love with a pretty woman. When he decides to lead a reformed life, he realizes that his mentor's life is at stake. What happens next is told in the gripping climax sequence.
Vadivudayan needs to be appreciated for all the characters are well etched and give the right backing in the movie. However he seems to be influenced a lot by the films of Mani Ratnam and Ram Gopal Verma.
Several scenes in the movie remind us of watching those ace directors' flicks. The romance between the lead pair is far from convincing the audience, while the gory violent scenes towards the climax could have been avoided.
Sembi dons the lead role for the first time. Been part of few films before, he gets the opportunity to shoulder the entire burden in his shoulders. He passes the muster. However, the female lead Dhanushya looks amateurish and fails to leave an impression. Her character is quite similar to Bhavana's role in 'Chithiram Pesuthadi'.
Maaji (Amsa Devi) is a gang leader in Kasi. She comes across an orphan (Sembi) and nurtures him. He turns out to be her trusted aide.
She crosses sword with a don Puri Ravi (Hemanth). In the gang war, Sembi checkmates Puri Ravi and his gang every time.
He comes across Filomina (Dhanusya) and falls in love with her. When he decides to reform and start a fresh life with her, he is forced to take up arms again. The rest is the climax.
Srinivasa Reddy's cinematography deserves a special mention. The narrow lanes of Kasi and the holy river of Ganges have been captured well into celluloid.
Produced by S Poorna Priya, Saamida begins in a brisk pace only to end in a predictable manner.