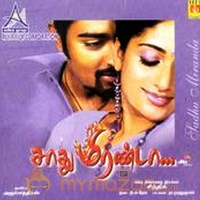 Sadhu Mirandal Movie Reviews
Sadhu Mirandal Review
by

MyMazaa.com
---
It is the season of transformation. Transformation- of romantic heroes into action heroes. Earlier we had Bharath doing a full-fledged action movie and now we have the demure looking Prasanna doing the same.
Director Siddhique, who had earlier given films like €˜Friends€™ and €˜Engal Anna€™ is known for his comical treatment. In €˜Saadhu Mirandaa€™ he has done the same with a dash of thriller. He has, in the process, given Prasanna a new identity as an actor.
Siddhique has deftly worked a script revolving around a bank robbery and a well-planned revenge by one of its victims. After a long time we have a script that can not be presented in a simplistic synopsis. The script has a lot of unexpected twists and turns. It shows an innocent and visibly coward Prasanna in the initial scenes. As the title suggests, he turns a warrior in the introductory scene itself. But Siddhique€™s script doesn€™t go on projecting him as a fighter. After a fierce fight to save a school girl, the protagonist turns to his original €˜self€™.
The innocent appearance of Prasanna, who is said to be out of a mental asylum, ably hides the real man inside him. The man is too clever to predict. He is too strong to be eliminated, too determined to be diverted.
Ram Mohan (played by Abbas), the main hand of robbery is in USA. Siva (Raja Sridhar), his brother cum subordinate is now in the hands of a man who wants revenge. Minister Venkata Sabhapathy (Kota Srinivasa Rao) is the third member of the gang.
Sundara Moorthy belongs to the family that falls prey to the robbery. Sundaram wants to revenge the robbers. He lays a well-planned trap to drag Ram Mohan to India using Siva, the minister, and Ram€™s girlfriend Priya (Kavya Madhavan). He works out a plan and executes it with his brain and muscle power. Finally Ram comes to India and Moorthy is all set to kill him but it is not going to be easy, as Ram too is a clever player.
Priya, however, falls for the innocent Prasanna. She hates him when she comes to know that he had cheated her but again feels for him when the truth behind his drama is revealed.
How Prasanna fulfils his mission and what is the role of Priya in the revenge drama? For that you have to watch €˜Saadhu Mirandaa€™.
On the sidetrack you have a money-lending gang (consisting M.S. Bhaskar, Charli and Vaiyapuri) along with a security guard Vellai (Karunas) to provide some hilarious moments. Thankfully, Siddhique has put this track within the main plot and has thus avoided any deviation from the plot.
Siddhique has done well by working out a compact script entwined with thriller and suspense elements with aplomb. The suspense element has been well sustained through out the first half. Prasanna€™s maneuverings by confusing the identities of persons are well planned and executed. The way he enacts comedy and seriousness at one go in many scenes is praiseworthy. Karunas and Priya€™s family chasing Prasanna for two different reasons and the climax, in which various groups wandering with varied purposes are best examples for this.
However, there are some obvious loopholes in the narrative. The way Prasanna accepts to stay in Priya€™s house is not well established. The politician angle is a weak link in the script. The man who gets into a serious robbery looking like a comical relief is something unacceptable. Gathering of too many characters in the climax mars its impact.
Coming to the performances, Prasanna comes out in flying colours with his powerful performance. His body language as an innocent is natural. The change in his body language when he turns serious is credible. The nuances in his expressions when he deals with various persons like Karunas, Kota Srinivasa Rao, Kavya, and Abbas are enjoyable.
Abbas impresses with his flawless portrayal of a baddie. His expressions are powerful. He has done well in action sequences. Raja Sridhar€™s depiction of a drug addict is amazing.
Kavya has got lot of scope to perform and she has utilised the opportunity well. She has handled various situations with confidence. The way she blasts both Prasanna and Abbas are noteworthy. This is definitely an important movie for her.
Kota Srinivasa Rao, Manivannan, Karunas, Bhaskar, Vaiyapuri, and Charlie have done well to give comical relief to the thriller.
The tunes by debutant Deepak Dev passes muster. Though the songs are tuneful, a couple of them work as a speed breaker to the narrative, especially the first song that comes after the intermission point. Though pasteurized well, the song proves to be an irritant.
Kanal Kannan€™s action sequences, cinematography by Prathap V. Kumar, and dialogues by Gokulakrishna add value to the movie.
Overall, this one is an entertainer with the right mix of thriller and comedy!