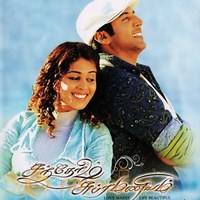 Santhosh Subramaniyam Movie Reviews
Santhosh Subramaniyam Review
by

MyMazaa.com
---
Hats off director Raja and Jeyam Ravi for hitting the bull's eye for the fourth time in a row. The duo continues from where they left in Unakum Enakum to provide a feel-good light-hearted family entertainer sure to be enjoyed with the family.
It is a whiff of fresh air amidst the nauseating action-packed flicks where men run around wielding guns aimlessly and the hero mouthing punch dialogues. The movie probes deep in to the psyche of parents and their grown up children to analyse where and how conflict between them starts. It also presents a solution.
Prakashraj plays a dotting father while Jayam Ravi his callous son. Both have handled their roles with ease and elegance. Both are natural and render justice to their characters. Ravi is bubbling with energy and is enthusiastic on screen. He is charming and elegant. Genelia is the perfect foil for the female lead.
In the role of a innocent and fun-loving girl, she has managed to deliver one of her best performance so far. She is spontaneous as an happy-go-lucky-girl and expressions come out quite comfortably from her. Hitherto she was looked as a glamour doll in Kollywood. Thanks to director Raja, she has managed to prove everyone that she too can sparkle in performance-oriented roles.
Santhanam in the company of Premji Gangai Amaran evokes laughter. His slapstick comedy evokes laughter at several places in the theatre.
The movie has a huge star cast which includes Kousalya, Geetha, Shayaji Shinde, Sathyan and former Indian cricketer Sadagoppan Ramesh. All have a contribution to make in the movie.
Devi Sri Prasad's pulsating musical score is a major highlight of the movie. The racy numbers linger in our hearts, while his background score sets up the momentum.
Santosh (Jayam Ravi) has everything in life, but in excess amounts. His father, Subramaniam (Prakash Raj), decides on what is good for Santosh and gives him more than what he asks for. But never he gives a chance to his son to express his opinion.
He selects the girl of his choice to Santosh. That is when Santosh meet a bubbly beauty Hasini (Genelia), whom he has waited all his life for. Now he has a complex situation. First he need to propose and win her over. Then convince his over-obsessive father. Then make his ladylove's father accept him. Then break the engagement. How he successfully comes across all these is Santosh Subramaniam.
Raja now joins the big league of directors delivering a movie that will satisfy all sections of the audience. Producer kalpathi Agoram should be equally complemented for churning out the venture.
Santosh Subramaniam is no doubt a film that is sure to spread santhosam (happiness) to one and all.
Cast: Jeyam Ravi, Genelia, Prakash Raj, Santhanam, Shayaji Shinde, Geetha, Premji
Music: Devi Sri Prasad
Direction: Raja