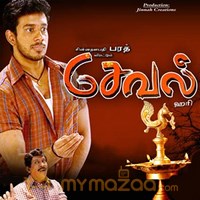 Seval Review
by

MyMazaa.com
---
Director Hari is known for narrating race tales with right commercial mix. Much was expected from Hari's €˜Seval€™, which was touted to be a crusade against the sufferings of widows in an Indian society. Unfortunately the movie has belied all expectations as it provides a feel of deja vu and it is clichéd and very predictable.
Hari's treatment to the screenplay reminds us of several films made some four decades ago. A sense of watching a mega serial prevails at many places. Murugesan (Bharath), a village vagabond spends most of his time with his uncle Thapal Thangavel (Vadivel), the village postman. One day Murugesan meets Parijatham (Poonam Bajwa) a Brahmin girl and falls for her.
Parijatham's sister Gayathri (Simran) dies after leaving her infant in her sibling's hand. At a time when her family members compel Parijatham to marry her brother-in-law, there are two others in the village lusting for the young girl.
A series of events make Murugesan to take a tough decision and sends him to prison. What's next is the climax of this tearjerker, which becomes a damp squib by the time the film comes to an end.
Bharath manages to deliver his best. Seems to be improving movie after movie, he gets his act right. He plays a happy-go-lucky-youngster in the first half and his transformation as an angry young man for a cause in the latter half deserves a special mention.
Poonam Bajwa does her job well, while Simran manages to leave an impact in her comeback. She oozes with right energy in the movie.
Vadivelu has a major screen space as he comes almost all through the film. He is a major relief in the movie evoking laughter at several places where the screenplay starts to lag.
G V Prakash's songs don€™t strike any magic on screen. Produced by M A Jinnah, €˜Seval€™ can be enjoyed in parts.