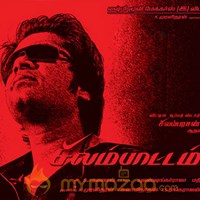 Silambattam Movie Reviews
Silambattam Review
by

MyMazaa.com
---
Expectations were riding high on Silambarasan's 'Silambattam' as the songs made it big even before the movie's release and it was touted to be a racy entertainer laced with action. However, the end product seems to be far from being impressive. With loosely etched characters and incoherent script, a sense of déjà vu prevails as one watches the film. But due credit should be given to actor Silambarasan, who does the job entrusted to him well.
Debutant director S Saravanan has come up with a script, which is about a young man, who has a bad past. The youth turning into an angry young man to avenge the killers of his family is the crux. A young son who acknowledges his bitter past and becoming an avenger is the most primitive storyline ever. This flick is no different and it's one more addition to the formula driven movies in Tamil cinema.
The 25th production of Lakshmi Movie Makers, Silambattam boasts of a huge star cast which includes the likes of Prabhu, Sneha, Nedumudi Venu besides Simbhu. However these characters seem to have added no strength to the script as they are too loosely etched. An out-and-out Simbhu show, the movie features the actor in a dual role – that of a father and son.
Vichu (Silambarasan) is a priest in a temple at Kumbakonam. Brought up by his uncle (Nedumudi Venu), he leads a happy and contended life and for him the temple and the Goddess is everything. Janu (Saana Khan), who lives in the same town, falls for Vichu's innocence. Swaminathan (Santhanam), Venkatesh (Manobala ) and his wife Pattu Mami (Nirosha) admire Vichu a lot. Vichu had a bad past known only to his grand father. Suddenly, in a twist enters Muthuvel (Prabhu). He gets released from jail and gets shocked on seeing Vichu.
Flashback reveals that Vichu is the son of Muthuvel's brother Thamizh (Silambarasan), who falls in love with a Brahmin girl Gayathri (Sneha), daughter of (Nedumudi Venu). Thamizh champions the cause of the village against baddies (Ponvannan, Raghav and Harris). Rathnam bumps off Thamizh's family and eventually Gayathri dies delivering a baby which grows up to become Vichu. Thanks to Prabhu, Vichu comes to know about his past and decides to avenge the killers of his family.
Silambarasan is impressive with a laudable performance. He's good at stunt and dance sequences and looks good on screen. Saana Khan reminds one of Simran, who has etched similar roles in a lot of films.
Santhanam with his double entendre comedy fails to evoke laughter. At many places, it crosses its limits and makes us uncomfortable.
Yuvanshankar has given racy and peppy tunes and songs including 'Where is the Party' and 'Nalamdhana' is a sure to make everyone dance. Stunts by Kanal Kannan deserve applause for its captivating sequence.
On the flip side, the movie reminds us of movies like Arasu, Anniyan etc. Had the director concentrated on screenplay and downplayed the down entendre, the end product could have been good.