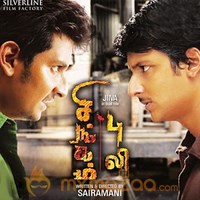 Singam Puli Movie Reviews
Singam Puli Review
by

MyMazaa.com
---
Singam Pulli Story:
Siva (Jeeva) and Ashok (Jeeva) are twin brothers with each having contrasting characters and mindsets. Siva is a fisherman while Ashok is an easy going natured guy who has completed his studies in law. Siva is a person who has extreme anger but he stands by the justice. Ashok is an evil advocate and a Casanova who will impress everyone with his good nature but he is not good at inner heart. The parents of the twins think great of Ashok has completed his studies while Siva is a school drop out.
In due course of time Siva falls in love Shwetha (Divya Spandana) an IT professional and Ashok's girl is Honey Rose, who dies mysteriously by committing suicide. Siva always knows that Ashok is an evil minded person covered by a good name. By having deep vengeance on each other the relation between the brothers turns bitter. In seeking the revenge the younger one Siva plans to kill the elder one Ashok which leads to a twist in the climax.
Performances:
Jeeva played dual role for the first time in this film. His performance as an evil advocate and as an honest fisherman for sure requires a certificate as he presented all his immense talent in both the roles. But than Jeeva need to select his scripts carefully so as to give a film as per the taste of current generation audiences.
Divya Spandana's role is designed well. Divya justified the role of Jeeva's love interest well as she performed with ease and Honey Rose is okay for glamour show.
Santhanam evokes the much needed comedy element in the film. The combo scenes of Santhanam and Jeeva gave rise to break the movie hall into laughter. But there are lot of double meaning dialogues.
Livingston, Santhanam, Lakshmi Ramakrishnan, Ponvannan and Natraj gave given their best in their respective roles.
Director Sai Ramani attempt of making Jeeva to perform dual role should be appreciated. Well, what can we say? The director's passion to make a sensible film did not work out well as there is nothing new in the film. The best part of the film is the way Sai Ramani handled the emotions other than love. His idea of bringing Jeeva as an evil advocate is superb.
Cinematography by M.Bala Subramanian is okay while editing by Venky should have been much better as some parts of the film requires trimming.
Music given by Mani Sharma is average and the visuals of the songs are good.
The first half of the film is passable with Santhanam's comedy but the second half lacks the grip and leads to a dull climax.