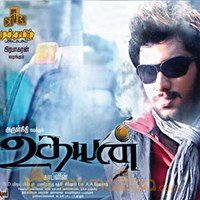 Udhayan Review
by

MyMazaa.com
---
Udhayan Story:
Udhayan (Arulnidhi) works with a bank as an officer along with Santhanam. He is a fun loving guy and falls in love with Priya (Pranitha). He is loved and admired by all the people around him for his clear thoughts and action. Priya's father works as an auditor with the baddie in the city. On knowing his daughter's love with Udhayan he asks his boss to help him to separate them. Meanwhile an old man (Ashish Vidyarthi) will be searching for Udhayan from pillar to post. As the film progresses Udhayan will come to know that Priya's father is not interested in their love and so he arranged goons to kill him. While fighting with the goons, Udhayan will be knifed. How will Udhayan sets all things right? Will he marry Priya?
Catch the answers for these questions on the big screens.
Performances:
Arulnidhi, in the role of a city-bred youth has done well. He improved a lot in stunts and dance compared to his earlier films. His trendy and stylish look will attract the youth and especially girls will admire him.
Pranitha looked cute and did her part well.
Santhanam as usual performed well and evoked the comedy with his one-liners. He is the prime source of entertainment in the film.
Ashish Vidyarthi is back in Tamil with a bang and played the role well. His expressions of anger are good.
The rest of the characters have performed well in their limits.
Director Chaplin has given a neat entertainer and is matches to the taste of all classes. His simple screenplay and the placing the twists at right places need special mention. Chaplin way of executing the film is good. The film starts in a lighter vein and progresses as an action packed entertainer.
S D Vijay Milton lens captured each and every bit in a racy and riveting manner while Editing by Kishore is perfectly done.
Music by Manikanth Kadri is the highlight of the film and he enthralled with his catchy tunes. The background score livens up the proceedings.
To concludes the film has nothing new as it carries the same old theme, if the director could have chosen a whole new scripts it would have helped him out. Udhayan is a neat entertainer with same old stuff.