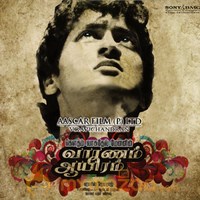 Vaaranam Aayiram Movie Reviews
Vaaranam Aayiram Review
by

MyMazaa.com
---
Varanam Aayiram - Memoirs of a heart with abounding memories
The film designed as a tribute to Gautham Vasudev Menons father comes across as emotions spelt out in a reserved manner and thereby proves to be a tame affair. One can understand the directors angst at losing a parent, and trying to make a film about the loss, but then the mans (father) enigma never takes center stage throughout the film. Probably the biggest drawback of the film.
The narration of the film has been designed to follow a classic approach. Unfortunately, all the ingredients that go into the making of a classic are missing thereby making the screenplay stagnate at times to irritable proportions. All films that have been successful in being called classics portray enduring human emotions that can be related with instantaneously. Gautham has most definitely missed the plot with Varanam Aayiram giving more emphasis to incidents rather than connecting them well. The story follows the lead characters (the protagonist and his father) through decades. Much effort has been taken to bring out authenticity to the period effect which is praiseworthy.
The story starts off with a senior citizen Krishna (Suriya) getting his hair trimmed in a saloon only to die after reaching home. The news is conveyed to his son, Major Suriya (Suriya) who is part of a rescue mission. With gritty determination, the young man declares he wants to go ahead with the mission. But the son in him overwhelms the Major that he is and events of his life unfold as flashes in his mind.
What a fantastic dad he had had! The story is narrated through montage sequences €" the time his father had met his mother in college (as told to him by his mother) and the innovative way he had made known his love for her €" his birth and the way he had always looked up to his dad as a real hero €" his sisters birth and the happy little family that they were €" his peek at adolescence €" his misadventures and the moment he was engulfed by the electric sensation of love etc.
Suriyas adolescent days come across as a breath of fresh air. The antiques he indulges in once he sees Megna (Sameera Reddy) on a night train and his train of thought that goes on in his mind to woo her, gets across to the audience very well.
After the interesting introduction, the determined Suriya goes to her house to see her. Megna is surprised but then is not convinced that his love for her is true. She reveals her plans to study in America and her preparations to leave in a weeks time.
The happy-go-lucky Suriya does some business and using the gift of being a good guitarist makes money. And then he is off to America, not for a career, not for studies but to win his girls heart and marry her. They do meet in America and the interesting character that he is wins Megnas heart. An unfortunate incident happens and Megna dies.
A reckless Suriya then starts smoking, drinking and becomes a horrible drug addict. His parents take care of him through these torrid times. His parents even want him to go away somewhere to find himself and come back as the person that he really is.
Suriya walks the streets of Kashmir and Delhi and even indulges in daring endeavors like rescuing a kidnapped child. Then the military bug bites him and he joins the armed forces. It is about this time that the director has made maximum usage of his good looks and the famous six-pack ab. After six years in the armed forces, he becomes a major and also has loving thoughts of a girl (Priya played by Divya Spandana) he had known for a long time but had really not given any kind of attention to. Does time wither away the association they had had?
The flashes of reminiscence stops and reality dawns€¦.he is part of the rescue mission now, fighting terrorists€¦.
The earthly presence of his father might have gone away forever€¦.but will always have a home in his heart€¦.probably thoughts that Gautham Vasudev Menon has€¦.
Suriya the actor rocks throughout. The variety of emotions he has portrayed is very good and a strong mention has to be made about his good looks and charm. He looks unbelievably like a person in his early twenties in some sequences that require him to be so. Something very few actors can really do.
Harris Jayaraj has rendered a beautiful set of songs with this film. The Background score is good in patches and compliments the brilliant cinematography by Rathnavelu. The cinematographer needs special mention for a refreshing tone which he has infused especially in the youthful sequences.
Sameera Reddy has been casual and fits the role aptly. Simran has garnered all her experience and does justice. Divya Spandana with her girl-next-door looks performs a role that lightens up a depressed protagonist with good effect.
One gets the feeling Gautham could have used all of Suriyas efforts with a better narration AND with all-round emotions to connect all the incidents in the script which would have made it more interesting.