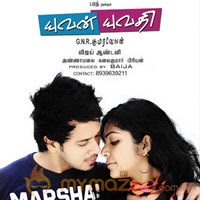 Yuvan Yuvathi Movie Reviews
Yuvan Yuvathi Review
by

MyMazaa.com
---
Kathir aka Kathiresan (Bharath), is a software employee who works for an MNC in Tidel Park. He is a city-slicker and always aims to settle in US to get rid from his father (Sampath) who is an arrogant and an influential person in Usalampathi village. He wanted his son to get married and is always against of love marriages. In one situation he even kills a young man for marrying a girl he loves.
This makes Kathir to leave to US in order to escape from his father's egotistical behavior. He doesn't want to reveal to his family that he is leaving to US and does all the work secretly. Kathir's friend Sakkara (Santhanam) helps him in all his good and bad deeds. One Kathir waits at US consulate for getting his Visa for US and there he meets Nisha (Rima). As seen in another love story they end up fighting with each other and meanwhile Nisha looses her passport. She blames that she lost passport just because of Kathir's bad luck. But after a series of happenings Kathir gets back Nisha's passport and within no time he ends up falling in love with her. Both of them apply for US Visa together. Just a day before their journey Nisha reveals that she is leaving to US for getting married. On knowing this Kathir turns into heartbroken situation!
Will Kathir wins Nisha's heart? Kathir's father accepts for their wedding? Will they leave to US? What will happen next? Watch out for Yuvan Yuvathi!
Performances:
Bharath looked apt for the role of an IT guy at the same time he maintained the stylish look. His dancing skills are appreciable as usual and also brought out the right emotions equally well.
Rima Kalingal has done her part well and also looked stunningly beautiful. She is definitely going to stay here for a longtime.
Santhanam as usual performed well and evoked the comedy with his one-liners. He is one of the best sources of entertainment in the film.
Sampath is another major highlight of the film and his expressions of anger are good apart from acting excelling in the role of an arrogant father! Anuja Iyer and Shakthi made a special appearance towards the climax of the film.
The rest of the characters have performed well in their limits.
Technicalities:
G. N. R. Kumaravelan has come out with a feel good entertainer which will especially appeal youngsters and students. Jagadeswaran's lens work exceptional as he canned the film in a classy and sophisticated way. Especially the beauty of Island is captured in the best way possible. Prabhkar's editing could have been better as a couple of songs and few scenes could have been trimmed to increase the pace of the film. Music by Vijay Anthony is fine with the songs 'Oh My Angel' and 'Kola Kuthu' standing out.
Analysis:
To conclude Yuvan Yuvathi is a good romantic and youthful entertainer which will attract youngsters. Movies coming on the theme of love will always make a special place. However while watching few scenes you will feel like beaten-to-bush in many films.