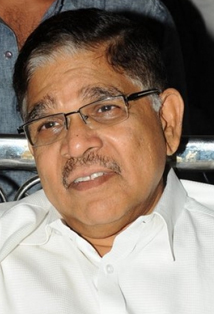 llu Aravind pronunciation (help·info) (born 10 January 1949) is an Indian film producer and distributor in Tollywood and political candidate. He produces films under his production company Geetha Arts with his brother in law, Chiranjeevi.
He is an active member in the Prajarajyam Party founded by Chiranjeevi Konidala, he resigned as general secretary of PRP and later again became the general secretary for the party on a special request from party president Chiranjeevi. Aravind has contested for MP from Anakapalli.
Aravind is the son of Padmasri Rama Lingaiah Allu. He is the father of Arjun Allu, who is also an actor, and Sirish Allu, who is an upcoming actor, making his debut with Gouravam, under the direction of Radha Mohan.[3] He is also the uncle of Ram Charan Teja Konidala. He has three sons named Venkatesh Allu, Arjun Allu, and Sirish Allu.