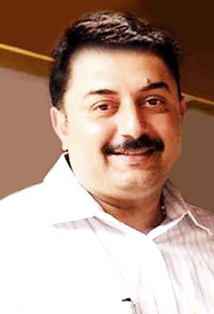 Alias
Arvind, Aravind Swamy
Age
48 years
Height
5'8"
Weight
76.00 Kgs
Occupation
Actor
Language Worked in
Hindi, Telugu, Tamil, Malayalam
Spouse

Gayathri Ramamurthy

Children

Rudra

,

Adhira

Birth Place
Chennai, Tamil Nadu
Eye Color
Black
Hair Color
Black
Education
Swami studied at the Sishya School and later in Don Bosco and completed his
Parents

V.D.Swami

,

Vasantha Swami

Sisters
City
Chennai
Arvind Swami (born in Chennai, Tamil Nadu), mostly spelled Arvind Swamy is an Indian film actor who features mainly in Tamil cinema. He was introduced as an actor by Mani Ratnam in the drama film Thalapathi (1990) and subsequently went on to play the lead role again in Ratnam's Roja (1992) and Bombay (1994). Swamy went on to star in other ventures including the Malayalam film Devaraagam (1996) and Rajiv Menon's Minsaara Kanavu, and Mani Ratnam's Alaipayuthey (2000).
Swami made his debut in Mani Ratnam's action drama film, Thalapathi, where he played a young district collector pitted against a don and his own biological brother. Subsequently Mani Ratnam signed him on to play the lead role in the 1992 political drama film Roja.
Roja and Bombay, both having a national integration theme won many awards at the State and National levels.[citation needed] Swami has won several awards, popular and critical, for his films. He was also reviewed by Time Magazine and was appreciated by the magazine for his 'soulful' performance in the film Bombay. Swami retired from acting in 2000 after playing a guest role in Mani Ratnam's Alaipayuthey. The actor took a decade out of films and concentrated on business interests. Swami however ended the sabbatical by signing on to play a role in Kadal, which is set in the backdrop of the lives of fishermen in Rameswaram.
In 1995, Swamy provided the Tamil dubbing voice to Adult Simba, in the 1994 Disney film, The Lion King.
Swamy married Gayathri Ramamurthy in 1994 and they had a daughter, Adhira (born 1996) and a son Rudra (born 2000). However, the couple lived separately for seven years until 2010, when they filed for divorce. Arvind Swamy continues to live with his children.