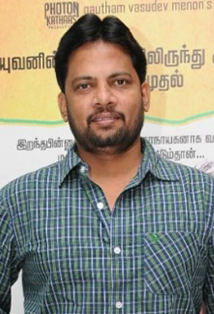 | | |
| --- | --- |
| Alias | Deven, Senthilkumar |
| Age | 4 years |
| Height | 5'8" |
| Occupation | Dialogue, Story, Screenplay, Director |
| Language Worked in | Hindi, Telugu, Tamil, Kannada |
| Birth Place | Madurai, Tamil Nadu, India |
| Eye Color | Black |
| Hair Color | Black |
| Education | Chimbudeven graduated from Madurai Thiagarajar College with a bachelor degr |
| Marital Status | Married |
| Favourite Cuisine | South Indian |
| Favourite Color | Black |
| City | Chennai |
He started his career as a sub editor/cartoonist for a hugely popular weekly magazine "Ananda Vikatan". Among his various cartoon strips, "Keemovil Somu" was a hugely successful comic series. This comic was later released as a book. His Jokes and political cartoons in the weeklies got him critical acclaim.
Among his various cartoon characters,'Imsai Arasan 23rd Pulikesi' got widespread acclaim from both readers & his peers. This Character/Cartoon later on became his launch pad into film world as a writer/ director.he was good dancer.
Chimbu started his film career by joining as an assistant director to film maker Cheran. He went on to assist Cheran for Vetri Kodi Kattu, Pandavar Bhoomi and Autograph (2004 film). Chimbu and Director A. R. Murugadoss were flatmates. Later on Chimbu worked in A. R. Murugadoss's 'Dheena' and 'Ramana' as a guest assistant.
The first independent direction chance came across from S Pictures. When the story was narrated to director S. Shankar, he liked it so much and immediately proceeded with the film and that was "Imsai Arasan 23rd Pulikesi" (Torture king 23rd pulikesi). After "Madurai Meeta Sundarapandian" film this is the historic movie taken after 28 years. The advertisement itself has shown a tagline of "India's first historical comedy satire". The film was full of political satire. Well-known comedian Vadivelu for the first time acted as a hero in this movie.The film when released went on to become that year's biggest box office hit.
Second film was also for director S. Shankar's S Pictures and directed a 'fantasy comedy' film "Arai En 305-il Kadavul" (God in room no.305). The storyline of the film was that what would happen if god comes to earth and stay. This was complimented by and large by both religious and atheist communities and it gave a new perspective about life. Comedians Santhanam, Ganja Karuppu and Prakash Raj are heroes in this movie.
Next film was made for Kalpathi S.Aghoram's AGS Entertainment. It was cowboy comedy "Irumbukkottai Murattu Singam" (Iron fort's furious lion). In Tamil cinema, after the movie 'Ganga', this is a full length cowboy movie being taken after 38 years. The movie was appreciated to be in the standards of an original Italian cowboy movies. In this film, the satire was on world politics and it had received award from Best Film 2010 -Tamil Nadu Progressive Writers - Artist Association.