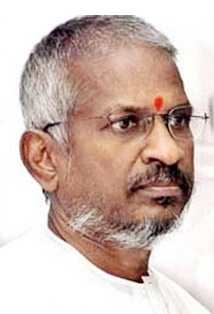 laiyaraaja was born as Gnanadesikan in Pannaipuram, Theni district, Tamil Nadu, India, but when he joined the school his father changed his name as "Rajaiya" but his village people used to call him as "Raasayya". Ilaiyaraaja joined Dhanraj Master as a student to learn musical instruments and the master renamed and called him as just "Raaja".
In his first movie Annakili, Tamil film producer Panchu Arunachalam added "Ilaiya" (Ilaiya means younger in Tamil language) as prefix in his name Raaja and he named as "Ilaiyaraaja" because in 1970's there was one more music director A. M. Rajah who was a popular one.Ilaiyaraaja is a devout "Hindu" by practice and live a very pious life.
Ilaiyaraaja was growing up in a rural area, he was exposed to a range of Tamil folk music. At the age of 14, he joined a travelling musical troupe headed by his elder stepbrother, Pavalar Varadarajan, and spent the next decade performing throughout South India. While working with the troupe, he penned his first composition, a musical adaptation of an elegy written by the Tamil poet laureate Kannadasan for Jawaharlal Nehru, India's first prime minister.
In 1968, Ilaiyaraaja began a music course with Professor Dhanraj in Madras (now Chennai), which included an overview of Western classical music, compositional training in techniques such as counterpoint, and study in instrumental performance. Ilaiyaraaja specialized in classical guitar and had taken a course in it at the Trinity College of Music, London
In the 1970s in Chennai, Ilaiyaraaja played guitar in a band-for-hire, and worked as a session guitarist, keyboardist, and organist for film music composers and directors such as Salil Chowdhury from West Bengal. After being hired as the musical assistant to Kannada film composer G. K. Venkatesh, he worked on 200 film projects, mostly in the Kannada language.
As G. K. Venkatesh's assistant, Ilaiyaraaja would orchestrate the melodic outlines developed by Venkatesh. During this period, Ilaiyaraaja also began writing his own scores. To hear his compositions, he would persuade Venkatesh's session musicians to play excerpts from his scores during their break times. Ilaiyaraaja would hire instruments from composer R. K. Shekhar, father of composer A. R. Rahman, who later joined Ilaiyaraaja's orchestra as a keyboardist.