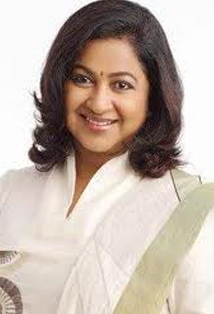 Alias
Kalaiarasi, Chitthi
Age
55 years
Height
5'2"
Occupation
Actress, Producer
Language Worked in
Hindi, Telugu, Tamil, Kannada, Malayalam
Spouse

R. Sarathkumar

Children

Rayanne Hardy

,

Rahul

,

Varalaxmi

,

Pooja

Birth Place
Chennai tamilnadu
Eye Color
Black
Hair Color
Black
Religion
Hinduism
Marital Status
Married
Parents

M. R. Radha

,

Geetha Radha

Brothers

Radharavi

Sisters

Nirosha

Favourite Cuisine
Indian Cuisine
City
Chennai
Radhika Sarathkumar is an Indian television and film actress, entrepreneur and producer. She is the founder of Radaan Mediaworks, which has produced the successful serials Chitti , Annamalai , Selvi, Arasi, and Idi Katha Kadu (Telugu). She is currently acting in the serial Chellamay for Sun TV. She is also a judge on Vijay TV's Jodi Number One. She has also produced a film titled Meendum Oru Kaadhal Kathai, which won the Indira Gandhi Award for Best First Film of a Director.
After becoming successful in cinema, Radhikaa decided to take on the small screen. In 1994 she set out to produce her own TV software under the Radaan TV banner. After some initial hiccups, the company re-emerged successfully as Radaan Mediaworks Ltd in 1999 and, by 2008, had an annual turnover exceeding Rs 10 crore. In 2004, the company ventured into film production in Tamil, Telugu and Hindi markets. Radaan has plans to the Hindi television market. She has acted as the protagonist in several hit serials produced by Radaan Mediaworks. Her first hit drama was Chitti, a 488-episode serial in which she portrayed the main character, Saradha. The serial was widely watched and praised throughout the Tamil-speaking world. Fresh off the success of Chitti Radhika went on to produce the 757-episode Annamalai, in which she played the main role. Her co-star in both these serials was the veteran actor Sivakumar, with whom she was often paired in films. In Annamalai, he played her brother. She recently played a dual role in the teleserial Arasi, sequel to the teleserial Selvi. She is currently acting in Chellamey and in a Telugu serial No.23 Mahalakshmi Nivasam. Chellamey serial reached its climax and conclude on 18th January 2013 ,with Radaan Mediaworks launching a new serial title Vaani Rani starting from 21st of January 2013 starring Raadhika Sarathkumar,Venu Arvind and Babloo Prithviraj playing the lead roles.
Radhika was discovered by Tamil director Bharathiraja when she was 16 years old. Her first film was Kizhakke Pogum Rail. She has acted in Tamil, Telugu, Kannada, Hindi as well as Malayalam films.
Radhika born 21 August 1962 is the daughter of the late Tamil actor and comedian, M. R. Radha (Mohan Rajagopala Radhakrishnan Naidu) and Geetha Radha. Her younger sister Nirosha (Niroja) is also an actress. Actor and politician Radharavi is her elder half-brother. She is married to actor Sarath Kumar, with whom she has a son named Rahul. She was married twice prior to marrying actor Sarathkumar. Her first marriage to the Malayalee actor-cum-director, Prathap K. Pothan, ended in divorce. As did her second marriage to Richard Hardy, who is a British national and by whom she has a daughter named Rayanne Hardy.