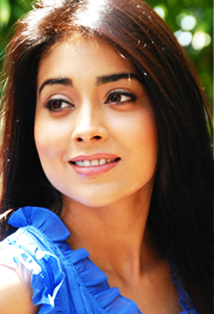 Alias
Shreya
Age
35 years
Height
5'8"
Weight
51.00 Kgs
Occupation
Actress
Language Worked in
Hindi, Telugu, Tamil, Kannada, Malayalam, English
Birth Place
Uttarakhand, India
Eye Color
Black
Hair Color
Black
Religion
Hinduism
Education
School: Delhi Public school, College: B.A(lit) from L.S.R. College, Delhi
Parents

Pushpendra Saran

,

Neeraja Saran

Favourite Cuisine
Indian Cuisine
Favourite Color
Red
City
Mumbai
Shriya Saran born 11 September 1982 also known by the mononym Shriya, is an Indian film actress and model. She has worked in several of the regional industries of Indian cinema, having acted in Telugu, Tamil, Malayalam and Hindi language films, as well as a few films in English and Kannada. Saran made her film debut in 2001 with the Telugu film Ishtam, and had her first commercial success with Santhosham (2002). She subsequently appeared in several more Telugu films, while making in-roads in the Hindi and Tamil film industries.
Shriya Saran was born in the Dehradun / Haridwar region of Uttarakhand in Northern India to Pushpendra Saran and Neeraja Saran.Her father worked for Bharat Heavy Electricals Limited and her mother was a chemistry teacher in Delhi Public School, Ranipur in Haridwar and Delhi Public School, Mathura Road, New Delhi.Saran completed her schooling from both schools where her mother had taught.Her family lived in the small town of BHEL colony in Haridwar when she was growing up.
She later studied at Lady Shri Ram College in Delhi and received a Bachelor of Arts degree in literature.Saran is an accomplished dancer. She was first trained as a child by her mother in Kathak and Rajasthani folk dance, and later trained in Kathak style by Shovana Narayan.She was involved with many dance teams in college and with her teacher. They would incorporate social issues into their dance routines.She has a brother named Abhiroop who lives in Mumbai.
Shriya Saran is not married. According to media reports, she has been linked with several men, some for long periods of time. She is very reluctant to talk about this aspect of her personal life, and usually denies that such linkups are romantic in nature.
Saran is well known for her charity work. She describes herself as someone used to "sharing time and resources with the underprivileged since childhood." She says that "celebrities can show the way by sensitising people to social issues, campaigning for causes or being part of fund-raisers." Her family has always encouraged her to think of the needy.