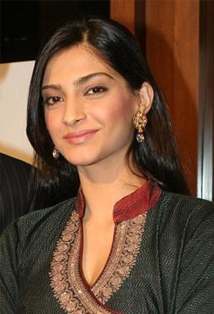 Age
33 years
Height
5'10"
Occupation
Actress
Language Worked in
Hindi, Tamil
Birth Place
Chembur, Mumbai, India
Eye Color
Black
Hair Color
Black
Religion
Hinduism
Education
Political Science and Economics from University of East London.
Parents

Anil Kapoor

,

Sunita Kapoor

City
Mumbai
Kapoor was born in the suburb of Chembur, Maharashtra, in Mumbai on 9 June 1985. She is the daughter of actor Anil Kapoor and ex-model Sunita Kapoor[2] and the granddaughter of filmmaker Surinder Kapoor.[3] The family moved to a house in the suburb of Juhu, where her parents still reside, when she was one month old.[4] Kapoor is the eldest of three children; the others are sister Rhea Kapoor and brother Harshvardhan.[5] She is the niece of producer Boney Kapoor, actor Sanjay Kapoor and producer Sandeep Marwah.[6] She is also the first cousin of actor, Arjun Kapoor and Anushala Kapoor. Furthermore she is the second cousin of actor Ranveer Singh from her mothers side.