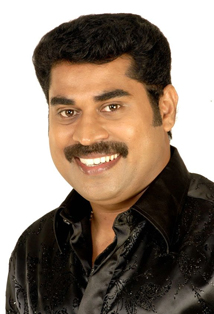 Alias
Suraj Vasudevan Nair
Age
41 years
Occupation
Actor
Language Worked in
Malayalam
Spouse

Supriya

Children

Kashinathan

,

Vasudev

Birth Place
Thiruvananthapuram, Kerala
Eye Color
Black
Hair Color
Black
Education
He completed his Mechanical course from Attingal Government ITI .
Parents

Vasudevan Nair

,

Vilaasini

Favourite Cuisine
South Indian
Venjaramood V. Suraj is the second son of Venjaramood Vasudevan Nair, a retired soldier with the Indian Army who fought for India. He was called by his father, mother and relatives by the name "Kuttappan". His elder brother V. V. Saji is currently serving in the Indian Army. Suraj also wanted to serve after completing his Secondary School Leaving Certificate but had to give up as he broke his arm by falling from a bicycle. He completed his Mechanical course from Attingal Government ITI and turned to mimicry acting soon after that. His breakthrough came when he acted in Jagapoka, a comedy program which was broadcasted on Kairali TV.
As of 2005, Suraj married his short-time girlfriend Supriya at Vaikuntam Auditorium, near Shri. Padmanabha Swamy Temple. They have two children: Kashinathan and Vasudev. Kashinathan has acted in films such as Annan Thambi and Teja Bhai & Family.
Suraj started his career as a stand-up comedian. His mimicry shows were success. He first acted in a film named Jagapoga which was a spoof of movies. He played an important role of Pachan as well as Dadasahib in this film. He is generally regarded for his artificial mockery of the Thiruvananthapuram accent for which he is largely criticized and his contributions to the blockbuster movie, Rajamanikyam, where the hero heavily uses the accent. So far Suraj has acted more than 100 films and played the hero role in the hit films Duplicate.