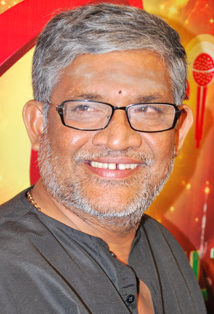 Alias
Tanikella Bharani
Age
61 years
Height
5'8"
Occupation
Actor
Language Worked in
Telugu, Tamil
Spouse

Durga Bhavani

Children

Maha Teja

, ,

Soundarya Lahari

Birth Place
Secunderabad, Hyderabad, Andhra Pradesh, India
Eye Color
Black
Hair Color
Black
Religion
Hinduism
Education
commerce graduate, B.Com and a PG Diploma in Theatre Arts.
Marital Status
Married
Parents

Sethu Ramalingeswara Rao

, ,

Laxmi Narasamma.

City
Hyderabad
Tanikella Bharani (Telugu: తనికెళ్ళ భరణి) (born on 14 July 1956) is an Indian film (mainly Telugu) and theater actor, screen writer, poet, magazine editor, playwright and director. He has worked in more than 500 films (Including Tamil, Kannada and Hindi).
Tanikella Bharani was born in Secunderabad at Gandhi Hospital [then it was King Edward Memorial (KEM) Hospital, Hyderabad State] to TVV Setu Ramalingeswar Rao and Laxminarasamma of Brahmin community. He is a commerce graduate, B.Com and a PG Diploma in Theatre Arts.
His great grandfather was Diwakarla Venkatavadhani, a Telugu scholar and his grandfather was Divakarla Tirupati Sastry. His uncle was Viswanatha Satyanarayana.
Bharani did stage plays in the mid 70s and during this time he made the acquaintance of Rallapalli, a Tollywood actor. With his help Bharani started writing small dialogues and stage scenes. Later, he took a diploma in Theatre arts. Following Rallapalli's advice he moved to Chennai.
He started his career as a dialogue writer for Kanchu Kavachum in 1984. and has written dialogues for various movies like Ladies Tailor (1985 film), Sri Kanaka Mahalakshmi Recording Dance Troupe (1987), Varasudochhadu (1988), Chettu Kinda Pleader (1989), Swara Kalpana (1989), and Seenu Vasanthi Lakshmi (2004). Bharani also penned and sung the lyrics of Gundammagaari Manavadu (Bhale Bhaleti Mandu).
He has acted in more than 500 movies starting with Ladies Tailor (1985) & Sri Kanaka Mahalakshmi Recording Dance Troupe (1987) in which he was seen as Dora Babu. In 1989 he appeared in the hit film Shiva by Ram Gopal Varma which starred Nagarjuna. With the release of the film Shiva, he received much recognition and his character Nanaji impressed the whole Telugu audience. He also played the lead role in the Hindi comedy film Main Tere Pyar Mein Pagal in 1999. His powerful antagonism in Samudram won him the Nandi award as the Best Villain.
After 2000, he started playing more mature roles in movies like Manmadhudu (2002), Okariki Okaru (2003), Samba (2004), Malliswari, Godavari (2006), Happy (2006), and more.
He played one of the lead roles in Rajubhai (2007).
He is very much popular in the background of movie industry, often quoted as "Maga Saraswathy" ( Male god of education) by different actors and actresses.