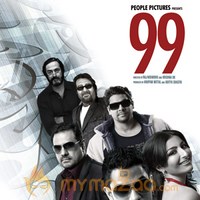 ---
Exquisitely, it's a great weekend for all film buffs who felt like thrown out of kilter sans releases. Gone are those unremarkable Fridays that didn't bring an entertaining moment for them as '99' kick-starts as a first release after such issues prevailing for a long time.
A mark away from centum or One shot from century whatever you may perceive it to be as. The film just sways on this line with interesting characterizations delineated. Perhaps, first thing you would like about is the finely established roles – fantabulous casting of performers.
Kudos to filmmakers Raj Nidimoru and Krishna D.K.!!! They've maneuvered with ravishing moments in the film, altho' brimmed with certain flimsiness in narration. Spinning the best innovative spells – What many filmmakers failed to do have been accomplished by this duo. Of course, the auteurs could've spent a little more time in diminishing their amateurish elements. It's like delaying moments in establishing each character and of course, the fire of thrilling moments ignites merely before minutes to intermission.
Well, just book your tickets, give a break to your cognizance, sit back and relax….
Set at the backdrops of year 1999, the film is centered on two small-time outlaws (Kunal Khemu, Cyrus Broacha). They're over-the-top dealers of illegal SIM Cards duplication. Their happy lives get entangled with out-and-out hazardous moments once they rob a car and meet an accident. The sorriest part is that the car belongs to a roughneck gangster (Mahesh Manjrekar) to counterbalance with money.
Here protrudes the roller-coaster thriller ride that takes you straight onto the busiest streets of Mumbai and Delhi.
Makers of this film geared up with a flamboyant debut directorial in 'Flavors' (Telugu) and they've proved with the same best results in '99'. Indeed, the makers have churned their films with three ducky vistas 'Funny, Intelligent and Stylish'… '99' has these traits in equal ratios.
But really, there's something that gets everyone more bemused about few filmmakers of this sort. They drop interesting ideas on their papers, but things get transformed as mediocre when they're on the screens. Why do they plan for very long duration? Although, this comedy thriller has more enjoyable parts, you'll start looking here-n-there and certainly find few yawning, looking at the watches. Nonetheless to these degrading factors, fantastic characters diminish them and that's a smart little move by makers. Be it these criminals (Kunal and Cyrus) or the serious match fixer (Vinod Khanna), they get straight under the skin of personations. Soha Ali Khan is much most hunky-dory on her show. Boman Irani leaps with a commendable performance and the duo-filmmakers should've established his image more delicately. Simone Singh and Amit Mistry have done justice to their roles.
Getting on with technical aspects, music is a big letdown on both the vistas of Background Score and Songs. On the contrastive grounds, Rajeev's camera works on exotic locations of Mumbai and lanes of Delhi are awe-inspiring. Looks like both departments of camera and editing have laid their innovative designs together.
Right on complete rating, '99' scores same as its title and would have done better if certain diminishing elements were avoided. Well it's a good attempt by duo filmmakers that's sure to keep audiences entertained.
Verdict: Enjoyable on few parts.