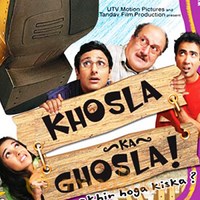 Khosla Ka Ghosla Movie Reviews
Khosla Ka Ghosla Review
by

MyMazaa.com
---
What happens when control freak Khosla is confronted with land shark Khurana? Rude reality check, a bit of major €˜hera pheri€™, €˜judicious€™ utilization of muscle-n-word power and lots of family bonding. Dibakar Banerjee€™s €˜Khosla Ka Ghosla€™ is a middle-of-the-road cinema that successfully tackles the clash of values with the ruthless system. And rather than looking at the murky wheeling-dealing in a serious €˜Saraansh€™ manner, the director uses humour and irony as a weapon to unfold his story in the heart of Saaddi Dilli€¦
The character of Kamal Khosla (Anupam Kher) is a direct (And intelligent) lift from R K Laxman€™s famous €˜Common Man€™ cartoon caricature that believes in honesty and gets flustered with the day-to-day trials-n-tribulations of life (Even his hair standing from the two sides above his hair resemble the Common Man). He invests all his earnings in buying a plot of land for building his family€™s dream home. After all that€™s what every middle class lives for€¦.A house€¦A home they can call their own. But Khosla ji is besotted with life-little-problems now-n-then. Like€¦
Computer Engineer son Cherry (Parvin Dabas) wants to escape to America to make something of his life. Elder son Bunty (Ranvir Shoorey) doesn€™t earn anything but loves his family tremendously. Mom (Kiran Joneja) is the peacemaker as Cherry expresses his displeasure with his name (His name believe-it-or-not is Chironji Lal Khosla) and also shows no interest in the plot of land. And then hell breaks lose as the Khosla€™s come to know that builder Kishan Khurana (Boman Irani) has overtaken their plot and also held the legal papers for the same. The broker asks the rightful owners to furnish 50% of what they€™ve already paid for buying-the-land to get their plot back.
When all the methods fail (Including the politicians, police and a bunch of pehelvaans), Cherry (The haughty son reforms after seeing his father€™s plight) decides to take the help of a good natured US Visa tout Asif Iqbal (Vinay Pathak) in giving Khurana a taste of his own medicine. Cherry€™s girlfriend Meghna (Tara Sharma) ropes in her Drama-Mandli of Bapu (Navin Nischol) to ensnare Khurana in buying a plot of land that belonged to someone else.
€˜Khosla Ka Ghosla€™ is notable for telling a story with no frills attached. The Khosla household looks very real. Their problems are real too. And how they solve their problems has been tackled realistically as well. Director Dibakar Banerjee knows the craft of storytelling and one can find traces of their own family situations in the simple interiors of the Khosla abode. And if one can relate to a story, the possibility of its success is that much more. Though, my grouse with him is the slow pace of the film. There are moments in the film when nothing seems to be happening. Moreover, there are a few continuity problems too, for e.g. Anupam Kher€™s hair look different in a scene immediately after he is back from the police lock up. And, the film is being sold with large cutouts of Boman Irani, but his presence in the film is limited. It would have been great to have more scenes between Anupam Kher and Boman Irani.
In the acting department, Anupam Kher as Khosla splendidly plays a role up-his-alley. His moody, whimsical old man act once again makes you sit up and take notice of an actor who is a volcano of boundless talent. It€™s good to notice that hunger for recognition is very much there. He makes you feel concerned when he shows his frail emotions and you can€™t help but crackle as he makes those comic facial expressions. Boman Irani as builder Kishan Khurana is spectacular (Though I feel cheated as I wanted to see more of him). His body language, impatience with impertinent people and keen knack for a sick joke here and there makes him a treat to watch.
Parvin Dabas, Tara Sharma, Navin Nischol, Vinay Pathak and Vinod Nagpal as Khosla ji€™s friend Sahni sahab play their part well. Amongst the other character artistes Ranvir Shourey is brilliant. He is back in his element after successfully selling his wares in €˜Pyaar Ke Side Effects€™ last week. No one can forget his dialogue delivery in the now-famous dialogue: €˜Yahan Peshaab Karna Mana Hai€™€¦The dead pan expression and the typical Punjabi accent makes it seem as if he had been living in Delhi all his life and is well aware with the Haryani-Punjabi style of speaking Hindi. Jaideep Sahni€™s story, dialogues and lyrics are commendable. Here€™s a writer to look out for.
€˜Khosla Ka Ghosla€™ is an entertaining film riding high on exceptional marketing by UTV. And such films deserve a push in the right direction. With the requisite amount of promotions, it will surely find its audience, though the chances in the Northern belt are a certainty. It€™s a good cinema that stays with you once you are out of the theatre.
Khosla Ka Ghosla: Worth-your-Popcorn-n-Cola!