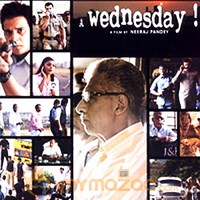 A Wednesday Movie Reviews
A Wednesday Review
by

MyMazaa.com
---
From the debutant Director Neeraj Pandey: Two men more challenging: an unrecorded event, spine-chilling thriller ride for 100 minutes with unexpected twists and turns. Cinematic purgatory, right?
Yippee! This is something unexpected, indeed a great surprise and a resurgence of pure cinema in the pages of Bollywood. It's off been awestricken gesture of tasting something unique amidst of feculent flicks that should have really annoyed us. Perhaps, A Wednesday entitles Neeraj Pandey as the finest gifted auteur of Indian Cinema. Truculent characterizations designed on stupendous actors and a rattling screenplay opening with a silent ambience and then an edge-seated thriller with nail-biting sequences: These ascribe the film to be the most estimable start by Neeraj.
Fine! What's so appealing about the story of 'A Wednesday'? Come on take a glimpse€¦
As the title goes, 'A Wednesday,' centers on certain events blossom forth between 2 and 6 P.M. on one fine Wednesday. These events are something that doesn't go noticed in the records of history, yet remains the most horrific ensuant for those involved in it.
It all starts when Prakash Rathod (Anupam Kher), City Commission of Police, Mumbai is buzzed by an anonymous entity demanding him to release four militants or else the bombs planted by him at various parts of the city would jeopardize lives of innocents. Prakash doesn't take it serious; assuming it is a crank call until he is blew out of the water once a bomb planted in the police station right opposite his police headquarters is spotted.
Situation is no easier for Prakash and now ropes in the squad of top-notch men for trapping the anonymous caller, queering down his plans. Even a young hacker is hired to assist the team in deciphering the stranger's location. But nothing really helps them out€¦ With no options left, Prakash Rathod takes in the aid of two young cops (Jimmy Sheirgil and Aamir Bashir) in handing over militants to the anonymous caller€¦. 'But, this is something clichéd kind of story': if you ever thought so, you're erred. Well, then starts the gripping chain of events that leading to a freakish turn€¦
It's completely out from platitudes when it comes to script and screenplay where we are lucky to see a flick sans songs, and irrelevant commercial elements. Hats off to Neeraj Pandey! His brilliancy in penning an exceptional script and brimming up star-casts on new dimensions is a penchant piece of work€¦. Well, the initial scenes centering on parallel stories may be quite irksome, but once the thriller ride begins, you would throw yourselves into the screen.
The most honky-dory personalities Anupam Kher and Naseeruddin Shah on the screen together and their breathtaking performance are really laudable. In precise, Naseeruddin Shah hits the bull's eyes with his over the top gestures and uttering of dialogues. His mind blowing performance in the climax sequences doesn't go alone: but with a rigid applause. Peering across the same wavelength is Anupam Kher spotted more energetically perfect. If you are looking out for his extraordinary performance, again it's the same climax that is about taking face to face with Naseeruddin Shah€¦
Jimmy Sheirgil with a never seen before performance steals the show as a fickle cop. One fine reason of singing appraisals for Neeraj is of utilizing Jimmy's potentials on superior quality. On the pars, Aamir Bashir, yet another talented actor is revealed. Chetan Pandit as the Chief Minister and Kali Prasad Mukherji as terrorist take on with perfection.
Getting on with technical aspects, one single word would be efficacious to describe them, 'Awesome'. Be it the chasing sequences canned by Fuwad Khan or Shree Narayan Singh's editing, everything is compact in spelling the flavor of a perfect thriller. Don't miss out the background score by Sanjay Chowdary: they are simply enchanting.
As a whole, A Wednesday is a flick that is sure to win the laurels across the far-flung corners. A bold and innovative attempt by Neeraj is worth it€¦
Verdict: Miss it at your own risk€¦
Rating : ****