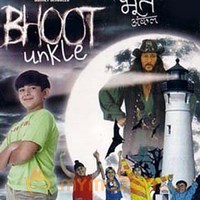 Bhoot Uncle Movie Reviews
Bhoot Uncle Review
by

MyMazaa.com
---
Kiddie films can be a treat. But, if they test your patience with substandard production values and silly jokes it can be an arduous experience withstanding the two hour something journey. €˜Bhoot Unkle€™ is one such film that neither entertains nor conveys a message. Instead, it€™s a testimony to the demise of a fine actor in Jackie Shroff, who has been relegated to playing slipshod characters that push him further in the abyss of nothingness.
So, what€™s it about? Do I really have to suffer this€¦.Never mind! To cut a sorry story short€¦.Cut 2 Hari Nagar. A small hamlet with all the amenities of the world. Shyam (Dev Kantawala) is the good boy with a good natured dwarf friend Tingu (KK) and Balle Balle Sardar boy Shunti (Mandaar). Akela, the thakela MLA (Akhilendra Mishra) gets after his life as Shyam has a constant tussle with bad son SK (Jay Kanani). Geeta (Sheena Bajaj), the nice daughter of the idealistic school principal supports Shyam when she finds out the injustices meted out to him.
MLA€™s muscle men shoot with twelve bore rifles at Shyam as he seeks refuge in the haunted Light House. A holy statue emits light as a thankful Bhoot Unkle (Jackie Shroff) emerges gleefully. Poor soul of a bad pirate had been captured in the light house hundred years ago. And he can attain €˜mukti€™ only if the holy statue that he had tried to steal is put back at its rightful place in the temple. A bit of give-n-take happens as Bhoot Unkle does some magic-antics to help Shyam while the little hero aids him in his own special way.
It€™s a film that doesn€™t have anything to talk about. The special effects are okey dokey but when you compare it with films like €˜Hanuman€™ and €˜Krishna€™ it stands no chance. Music by Baba Sehgal is bad therapy for ears and what€™s this€¦.no credits for amateurish direction. Story by Anish Dey is childish-n-unconvincing. As for acting, then Jackie Shroff looks haggard and unkempt. For someone playing the title role, one didn€™t expect him to make an appearance in the second half. Akhilendra Mishra as MLA plays his part well.
As for the kiddoes, then Dev Kantawala is able. He has a nice screen presence and is likable. KK, the self effacing Tingu is charming, Mandaar as Shunti and Sheena Bajaj as Geeta are cute.
€˜Bhoot Unkle€™ is aimed for children. But in this day-n-age when kids have umpteen options in the form of cartoon channels and internet, this Unkle is gonna vanish like a ghost from the cinema halls very soon.
Bhoot Unkle: Not-Worth-A-Smile