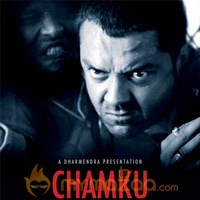 Chamku Review
by

MyMazaa.com
---
Vijayta Films Pvt Ltd celebrates its 25 years in the Indian Film Industry a Silver Jubilee by presenting €˜CHAMKU€™ which is scheduled for release on August 29, 2008. The banner proudly owned by the Deol family brings forth director Kabeer Kaushik of the €˜Sehar€™ fame.
The film Stars Bobby Deol, Priyanka Chopra, Danny Denzongpa, Irrfan Khan, Ritesh Deshmukh, Rajpal Yadav, Arya Babbar and has apparently been inspired by a true story. The film depicts the journey of a male Naxalite from the southern interiors of Bihar, tutored under a covert governmental program & trained to kill. CHAMKU(Bobby Deol), this is his story set in real time. A brutal past Kill - or - be - killed fights, political assassinations, explosive intrigues and a chance to encounter that culminate in an epic vendetta. Kahani kabhie Khatam nahi hoti (A journey that ends where it all began)
For starters, the film takes off real well with a great amount of intensity. Director Kabeer Kaushik does well in capturing the interiors of U.P. and other naxal bound places. The intense action sequences , the gun shots , the bloodshed etc keep you really hooked on to the proceedings.
As we move on and the character of Chamku starts revealing more of himself and things get a little weary. The usual love angle accompanied with hindi cinema creeps in and undue importance is given to developing the Priyanka Chopra-Bobby love angle.
Director Kabeer Kaushik who has been so tight with the screenplay of €˜Sehar€™ suddenly makes you wonder whether it€™s the same Kabeer behind this flick. Chamku might know where he is headed but the poor audience is absolutely lost trying to figure out what the likes of Reiteish Deshmuk , Rajpal Yadav, Irrfan Khan are doing The journey moves from a childhood revenge to the naxal backdrop to the underworld and the world of bookies etc. To top it all there€™s Priyanka who drops in with the most predictable line-€˜Main Teri Bachey Ki Maa Bane Wali Hoon€™.
As for the positives, it€™s the cinematography by Gopal and Bobby€™s performance that keeps you hooked on. Keeping aside the number of €˜Fade Outs€™, the camera draws you in.
Bobby Deol excels like never before. You might have seen traits of his €˜Chamku€™ performance in €˜Badal€™. The film truly belongs to Bobby who with his straight face says quite a bit. If elder brother Sunny was the synonym for€™ anger€™ watch out for Bobby. He excels real well with his bit and his look is just so apt. He€™ll surprise even more if you watched his lame act in €˜Jhoom Barabar..€™
Piggy Chops/ Priyanka Chopra is just wasted. Her bit in the film comes more as a hindrance to the flow. Her part brings in some lame songs and she just moves around flaunting colours of her €˜sari€™.
Irrfan Khan has a more confused bit in the film nevertheless does pretty ok. Ritesh is wasted and so is Rajpal. Deepal Shaw does a tiny bit. Danny Denzongpa is there for a glance. Arya Babbar gets his two minutes of action and his character is killed.
The music by Monty Sharma has nothing to offer. Not a single track to take back.
On the whole, Kabeer Kaushik who was so tight with €˜Sehar€™, disappoints and gives way to the clichés of Hindi cinema to seep in. A let down from Kabeer €˜Sehar€™ Kaushik.
Rating : **