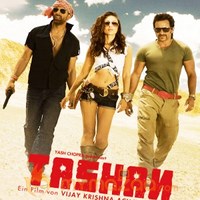 Tashan Review
by

MyMazaa.com
---
€˜Tashan€™ , a movie kept totally under wraps without any media interactions or gigs of that sort by the team at Yash Raj Films; releases this week amidst a dry spell in bollywood. With the cricket IPl mania freaking the producers out, not many biggies dare to release their films unless you are from the Yash Raj camp.
Tashan marks the debut of Vijay Krishna Acharya , the man behind the scripts of Dhoom and Dhoom2. Vijay Krishna Acharya aka Victor, who has been associated with the smash hit status of both Dhoom€™s, tries his bit at direction. So, is it as enthralling as Dhoom?
What happens when you throw two guys who hate each other together...
A cool call center executive Jimmy Cliff (Saif Ali Khan), a desi wannabe gangster Bachchan Pande (Akshay Kumar) add for good measure a beautiful girl Pooja (Kareena Kapoor) who can't be trusted... on a journey across spectacular India... a journey which will alter the course of their lives in more ways than one... a journey where even enemies need to trust each other if they want to be alive...
Trouble is, in this world no one can be trusted ever!
And to top it all there is the evil eye of Bhaiyyaji (Anil Kapoor)... a maverick gangster who enjoys killing people as much as he enjoys speaking English...
What you get is... TASHAN
Firstly, Victor truly does a fine job at making Tashan live up to its title. The movie is sleek and high on style. Right from the colours , costumes , hair styling , cars , dances , guns etc everything has got its style quotient. Don€™t look for similarities between Dhoom and Tashan cause the only similarity lies in the syling which in turn vary in terms of an urban look in Dhoom to a rural,semi-urban,urban look in Tashan.
Victor does well at imbibing humour in a script that involves high action and rivalry amongst various characters in the film. The lacuna comes in the form of the storytelling and screenplay done by Victor himself. The brain behind Dhoom fails to tell a story that grips the audience. The storytelling particularly in the 1st half seems dragging and gets a lift only on the introduction of Bachan Pande (Akshay Kumar) .
The proceedings in the movie tend to get vague as the movie moves ahead right from the hollywood style road chase for treasure to a typical Hindi formula film of revenge and lost love etc. Nevertheless, the action and comic sequences keep you entertained.
The cinematography by Ayananka Bose is splendid capturing the locales of Greece, Rajasthan , Kerala etc in its true essence. Editing by Rameshwar S. Bhagat and art direction by Sukant Panigrahy is what further enhances the Tashan(style) of the film.
Music by Vishal Shekar and Choreography by Vaibhavi Maerchant are definitely entertaining and foot tapping enough but tend to barge into any portion of the film making the film€™s Tashan take a dip.
On the technical front, the action by Peter Hein is supreme. Peter does a splendid job at making the action look no less than any Hollywood flick (atleast close to some of the finest action flicks). For those who love playing the€™ Counter Strike€™ game on their PC or Playstation will surely see the resemblance in the sequence where the prime characters in the film take on the team of cops.
On the acting front, Anil Kapoor as Bhaiyya Ji , The bad guy trying to learn English is funny but only at the initial stages of the film and eventually gets monotonous and boring. But, Anil does a good job as the villain from Kanpur.
Kareena Kapoor is ok as the smart, cunning Pooja but isn€™t at her best. She does very little to prove her acting credentials and more to beat the likes of people who believe that she can never dawn a Bikini.
Saif Ali Khan really struggles to make a mark in this film. Just like any other Yash Raj Film, Saif relies on his antics of being a flirt etc. Saif does his bit of action, dance and shows off his biceps but after watchin Saif in Race , one would hardly find the character of Jimmy impressive except for his looks. P.S.-One gets to see Saif€™s cute little son Ibrahim as Jimmy junior in the film.
The man who steals the show and elevates the film is none other than Akshay Kumar. Though he comes in much later on in the film, he impresses with immediate ease. He makes you giggle right through with his Bachchan Pande dialogues and leaves you awestruck with his acton sequences. It€™s been a long time since Akshay has done a film that involves his forte-action and indeed the action comes as a complete treat. Whether it is Akshay jumping over barrels and climbing a building or whether it is Akshay simply running about in slow motion to the howling theme of Bachchan Pande, he rocks!
On the whole, the action, styling, and a few witty lines with a superb performance by Akshay Kumar makes Tashan a movie worth watching. Though the IPl has forced producers to push their release further ahead, no doubt a movie like Tashan is sure to find audiences specially the youth who are fed up of being at home glued to cricket and the subsequent ads that come along with it.
Rating : ***