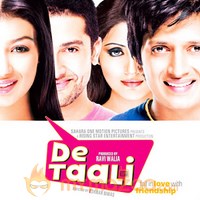 De Taali Review
by

MyMazaa.com
---
€˜De Taali€™ which sounds all fun and youthful with its title and look of the film brings E Niwas after €˜My name is Anthony€™. With the likes of Riteish , Ayesha , Aftab and Rimi Sen ; one would expect a laugh riot but the outcome nowhere calls for a single clap.
Synopsis€¦
Paglu (Riteish), Amu (Ayesha) and Abhi (Aftab) are buddies, an integral part of each other€™s lives. Amu is a girl amongst the two guys, though Paglu and Abhi don't treat her like one. Paglu is the one who makes her realize about her feelings for Abhi. Life, however, takes a serious turn when Abhi falls in love with Kartika aka Anjali (Rimi Sen).
E Niwas in an attempt to outdo his own €˜Love ke liye kuch bhi karega€™ misfires big time. The plot is headed nowhere with just a bunch of songs shot at various eye catchy locations. From starting off as a lovey dovey tale of 3 friends to a kidnapping affair with the entrance of a foxy Rimi Sen , €˜De Taali€™ is nowhere close to a fun film.
In fact the 1st half of the movie wasn€™t as bad as the 2nd which is totally lame and stupid with the entrance of characters such as Pawan Malhotra , Rimi€™s family angle etc and off course Mukul Dev€™s hunt for his €˜Anjali€™.
E Niwas makes an attempt to package his film with some eye candy by squeezing in cameos from Neha Dhupia, Anjana Sukhani ,Hrisitha Bhatt but they all fall flat. Maybe Neha€™s cameo is a little funny with the €˜Chitrakoot€™ element.
On the music front, the best song of the pack by Raja Hassan €˜Maari Teetri€™ is missing from the film and instead all other tracks by Vishal Shekar seem a little too irrelevantly placed or comes as an overdose.
The best performer of the film is no doubt Riteish Deshmukh who indeed has some comic sense and his timing is apt. Ayesha Takia too does well with this flick and is much better than her €˜Sunday€™ performance. Aftab is just ok. Rimi Sen is so pale as the vamp in the film. She somehow seems to have lost her charm attempting to be the so called €˜sexy€™ kind.
At the box office , €˜De Taali€™ won€™t find much takers with an overload of films this week. The plot being a big letdown doesn€™t leave much for the film.
Rating : *1/2