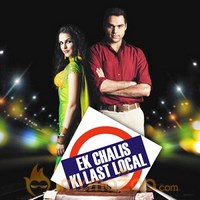 Ek Chalis Ki Last Local Movie Reviews
Ek Chalis Ki Last Local Review
by

MyMazaa.com
---
Ek Chalis Ki Last Local - A surprise offering from Sanjay Khanduri
An unusual title always makes one curious about what a film has to offer but then there are also apprehensions galore. What is the film turns out to be a damp squib? What if debutant Sanjay Khanduri turns out to be yet another wannabe director who fakes an attempt to make something different? What if the film turns out to be just a parody of sorts with no depth or intelligence? What if the film is yet another 'aamchi Mumbai' affair with bhaigiri, underworld and stuff alike?
Thankfully EK CHALIS KI LAST LOCAL turns out to be a film that breaks the stereotypes, mainly from the narration perspective, in a big way and hence deserves to be appreciated for its uniqueness. Keeping the clichés aside, writer-director Khanduri tells a tale that is dark yet fun, crude but not rude, hilarious but not comic and moreover thrilling and yet so believable. In nutshell, a film that goes all out with holds-no-bar approach and doesn't get impacted by a so-called defined way of film making.
When you laugh along with a killing taking place and a murder being committed every 15 minutes of the movie, you know that things are not meant to be taken seriously, even with all the scary faces around. Call it a spoof of sorts but there are a dozen odd scary looking bhais (and even a behen, watch out of her, she is deadly) who instead seem to be laughing at their clan. A clan; which is ever-so-famous since the time of Ram Gopal Verma's SATYA.
There is Ponappa bhai, who looks like a 'bhai', though a feet shorter, there is a parallel 'bhai' Mangesh Chilke, who likes to pop in Smiley faced rubber ball into the mouth of young boys after a warm up exercise, there are some junior bhais who deal in extortions and ransoms, there are some sidekick bhais who want to pump in bullets into anything walking with a 'khakhi' on, there are some 'charsi bhais' who frequent nigh bars for their night rendezvous, there is a 'bhai-behen jodi' which is insane to say the least and most importantly there is a bunch of 'vardi-wale-bhais' who settle deals in 'petis and khokhas' while interacting with the underworld and commoners alike.
And guess what, even with such 'bhaigiri' around, never once does one cringe in the seat or feel uncomfortable. To add to tune fun, for a change there comes a film with an underworld setting which even women-folk would enjoy from beginning till the end. This is because the film isn't disturbing, violent or dark. It is instead a comedy which picks up reference threads from each of these characters and comes across as a well knit tale that makes you pat on the back of director Khanduri who excels in his very first venture.
Amidst all the 'bhais', uncertain rains and the mid-night hour are Nilesh [Abhay Deol] and Madhu [Neha Dhupia] who are trying to reach their homes after missing their last local at 1:40 AM. Next train arrives at 4:10 AM and at least one of the two gets richer by 2.5 crores. And in these 2 hours 30 minutes, they meet these 'bhais' who changes their lives forever.
In parallel, there are some ransom calls happening, a junior 'bhai' loosing his ear in a freaky accident, a business tycoon getting his Merc damaged, a game of cards going awry, a 'charsi' trying to snatch Madhu from Nilesh, the weirdo 'bhai-behan' couple stopping over to buy a bottle of red paint, a eunuch aunty trying to arrange for Rs. 8 lakhs even though her 'galla' has only Rs 56,000, a Rajnikanth wannabe cop finally getting his cigarette act right, and last but not the least Nilesh finally staring at his virginity being lost....well, not the way he would have loved to!
With so much happening around, there is always a strong possibility of things going really awry and out of hands. To the credit of film maker Khanduri, none of this happens as he keeps a strong control over the proceedings and makes ECKLL one smooth ride, though one wishes that the portions between the interval and the introduction of Deepak Shrike [as Mangesh Chilke] could be trimmed a little. While the first half of the film is flawless with laughs reaching a crescendo towards the interval point as some secrets unfold, the climax of the film takes the cake as Khanduri plays mind games with his audience.
You know that Nilesh has got the moolah but you are apprehensive that it may all be taken away. A twist comes and it seems he would loose it all. But then there is a twist and some more and you are left guessing till a moment before the end credits role.
Apart from some very good writing, what works with the film perfectly are the actors chosen to play the characters. Abhay Deol is simply adorable in his 'idiot-boy' role and turns out to be a guy whom you would love to hang around with. A 'fatte-baaz' to the core who loves to talk about him, build a fantasy world and has a knack of coming out of tricky situations, he comes up with an act that would be remembered.
Neha Dhupia plays her part perfectly and after playing a corporate woman in DELHII HEIGHTS, she yet again proves her versatility as she gets to play a young woman who has to demonstrate various shades of her character. Beyond the two, there may not be many recognizable faces but there is not a single actor in the film who hasn't delivered. Each of the 'bhais' as mentioned above play their parts to perfection and add on to the film.
Cinematography of the film is decent while the background music and the tracks that go in the background [especially 'Bheegi Bheegi' and 'Ekka Chauka'] are decent. The bar number 'Kuk-du-ku-du' doesn't have any audio value but this too is with a purpose, something that you realize on watching it on screen. Dialogues are witty, especially the ones mouthed by Abhay throughout the film's duration.
If audience reaction to the film is to be believed, EK CHALIS KI LAST LOCAL is en route to be the surprise of 2007. After BHEJA FRY, this is one film that has huge potential to find an audience for itself from sheer word of mouth. There are laughs, and laughs and some more laughs throughout even as bodies keep falling left, right and center. A journey which begins with Nilesh fantasizing about Madhu and eventually visualizing her as the one who would stitch a button on his shirt as a dutiful wife, it has its various twists and turns, literally.
Bringing his neck outside the comfort zone that may be adopted by most newcomers, Sanjay Khanduri comes close to the thought process that highly acclaimed Hollywood director Guy Ritchie has demonstrated in most of his films. An unconventional setting, it proves yet again that the writer-director is here to tell something new and something unconventional.