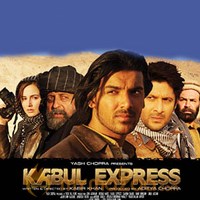 Kabul Express Movie Reviews
Kabul Express Review
by

MyMazaa.com
---
It is a sin to expect
The voiceless screams?¦
A kid can??t play like others. He doesn??t have a leg. But that smile on the face clearly enunciates that he doesn??t expect anything from life except some normalcy. Maybe a Hindi film song is his definition of normalcy. Kabir Khan??s ??Kabul Express?? is a film that extracts such vignettes of implausible possibilities in the war torn Afghanistan where voice-of-reason is riddled with a stream of bullets. And yes it also tell you that if you are the driver of a truck loaded with Pepsi cans (a symbol of American liberalism) then be ready for a bullet in the head. The lighthearted bantering throughout the course of the film, exceptional camerawork by Anshuman Mahaley and a tight two hour length makes this a gripping fare all the way.
Alright Kabir Khan is a documentary filmmaker. And the narrative flows in a somewhat similar manner. But the manner in which the humour element has been incorporated in the lives of five disparate individuals Suhel Khan (John Abraham), Jai Kapoor (Arshad Warsi), Jessica Beckham (Linda Arsenio), Khyber (Hanif Hungam) and Imran Khan Afridi (Salman Shahid) makes this a fun ride for almost the entire duration of the film. The demand for Jai??s cigarettes, amusing donkeys, the irrepressible liking of local Afghanis for the Bollywood stars, cricket debates and tanks being referred to as taxis makes for funny situations. And there??s one man who causes most of those chuckles?¦Arshad Warsi?¦His comic timing is fabulous. And yes, he overshadows John Abraham.
??Kabul Express?? deals with a complex subject and for the uninitiated who don??t follow world news that often, the story will be difficult to follow. It starts post 9/11 in November 2001, a time when the Americans had got rid of the basic fabric of Taliban in Afghanistan. Suhel, a television reporter and Jai, a cameraman from India land up in Kabul in hot pursuit of a scoop on Taliban. Instead they are captured by Imran, a Pakistani soldier who had been serving under the Taliban as a mercenary. Khyber, the Afghani guide and American photo journalist Linda complete the fugitive picture. The clash of civilization debate rages amidst guns-n-cigarettes. And then one realizes Imran is not really a bad person after all. The moment when he leaves a few hundred dollars for his daughter (she is wedded to an Afghani) without saying anything carries reams of poignance.
It??s also not a film showcasing anyone??s heroic skills in the traditional Bollywood sense of the word. If you ask me, then the real hero has to be cameraman Anshuman Mahaley whose camera captures the after effects of a country wrecked by a war stretching over two decades. The disheveled tanks, buildings in shambles, endless muddy roads peppered with unhospitable rocks, Buzkushi bonhomie and majestic caves, Anshuman??s camera ensnares Kabir Khan??s vision. In totality. The whole country seems to be the finding of an ancient excavation site.
Kabir Khan, the director scores successful points due to the effortless coming-together of entertainment and an objective world view. He doesn??t impose his own point of view that the Taliban is bad or Americans are good or Pakistanis are opportunists. The unfolding of truths happens through the conversation between Khyber and Imran as to how Taliban was a creation of America to fight the Russians and later Pakistan promoted them to further their interests within Afghanistan. And now the same Pakistan was fighting Taliban tooth-n-nail just to remain in American Good Books. It??s been a full circle. A game that nobody has won. But the country of Afghanistan has been totally devastated. And nobody seems to understand that it takes ages to build something while in so little time a whole civilization has been destroyed.
It??s not as if ??Kabul Express?? doesn??t have its loopholes. The five protagonists successfully evade bullets, an American bomber doesn??t retaliate in spite of being shot at, the graph of the American journalist Jessica is sketchy, where she comes from and where she goes isn??t highlighted properly at all and ??Kabul Express?? could still have been made even if John Abraham wasn??t there. For the poor fellow hardly does much in the film and Arshad Warsi simply walks away with all the meaty lines. Arshad is having a great year and ??Kabul Express?? will further boost his credibility as an actor with an amazing comic timing.
If you ask me who??s the best actor amongst them all, then it has be Salman Shahid who disrobes a myriad of emotions. And his palette of expression carries a wide variety of emotions. Linda Arsenio is competent while Hanif Humgum truly loves Hindi films. For he mouths a few of the dialogues in a typical filmi manner. Very endearing is all I can say. Amitabh Shukla??s editing ensures that there isn??t any dull moment in the film while Julius Packiam??s background score is spellbinding and apt for the various situations.
??Kabul Express?? is not a run of the mill film. And it shall appeal only to a select audience who appreciates sensible cinema. Here I must add that sensible cinema need not mean that it??s not entertaining. The entertainment quotient is ripe throughout the film. Even in the ending. It??s heartening to note that Yashraj Films have finally climbed down from their high horse of sugar coated flaky romances and delivered a quality product with no frills or dhoom attached. Hope they continue to patronize such kind of cinema in the future too.