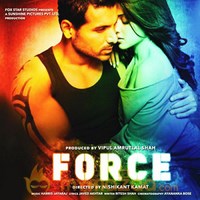 Force Review
by

MyMazaa.com
---
A raw rugged cop's tale of vicious vendetta fused into a tender romance seems like a hard act to live up to. But Nishikant Kamat, seeking inspiration from a hit Tamil film "Kaakha Kaakha" manages just fine.
He gets incredible support from dialogue writer Ritesh Shah, who infuses every exchange on love (with the girl who won't take no for an answer) and war (against drug peddlers) with a kind of lived-in warmth and familiarity.
Kamat, who earlier made "Mumbai Meri Jaan" on terrorism and the city of Mumbai, here has a blast bringing back the old-fashioned action hero. John Abraham has worked hard on his physique and his expressions too look like a cop who thinks falling in love would take him away from his line of duty.
Enter the vivacious effervescent girl nextdoor. Genelia with her multiplicity of expressions aptly plays "Bubbly" to this duty-bound "Bunty" who would rather not get entangled in human foibles like love and family. But the inevitable happens.
Kamat lovingly weaves the love story between the impish girl nextdoor and the gentle giant into the persistent call of duty, making sure the film's claims to be an action film doesn't get drowned in mush.
While the first hour is a loose bag of striking shootouts staged in crowded localities of Mumbai and some highly dispensable romantic songs, it is the second-hour where the narration really gathers momentum pitching the relentless cop against his chief adversary a drug dealer named Vishnu, played with arresting elan by debutant Vidyut Jamwal.
The man-to-man confrontations between Abraham and Jamwal have a rousing rugged resonance to them. They may make you squirm with their brutality. But the two look like well-matched opponents. Action director Allan Amin devises combats that convey a bone-crunching realism.
The two adversaries take care of the rest. John gives a finely pitched performance looking every inch like the action hero who can deliver that punch. He handles both the brutal and tender moments in the violence and romance, with ease.
Newcomer Vidyut Jamwal makes a formidable adversary. The menace is not only in the physique but the tone. This man means business. Some of the supporting cast is interesting too.
"Force" is a full-on action film with balls, brawn and brains. It's the kind of virile cinema where action speaks louder than words. Blessedly the narrative secretes some fine dialogues and tender love story that goes with the turbulent territory. Nishikant Kamat balances out the colour khaki with sharp colours of humour and romance.