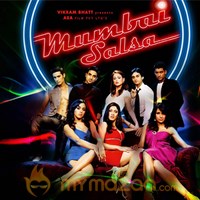 Mumbai Salsa Movie Reviews
Mumbai Salsa Review
by

MyMazaa.com
---
Now this one is the surprise release of the week. With JAB WE MET hogging all the limelight and NO SMOKING being in news as well, MUMBAI SALSA may have just been lost in the crowd if not for an endearing narrative which makes one stand up and say - "Ok, so this was something new."
Yup, sex finds quite some prominence in MUMBAI SALSA which takes you through the lives of eight protagonists - Four men, Four women, all young. Manjari Phadnis (last seen as a school girl in ROK SAKO TO ROK LO) starts off her relationship with Vir Das with a one night stand (or was it one night sit, as commented by Vir, since he was drunk enough not to realize if anything had happened at all?).
Amruta Khanvilkar, as a tattoo specialist romps with everything and everyone on bed, repeats the act with Raymond Irani before it is time to settle down. Neelam Chauhan, a Salsa dance instructor, does see hopes of true love from Indraneil Sen Gupta, an already married man, before she realizes that her 'tanhai' and 'dance' were perhaps her best friends.
On the other hand Linda Arsenio (remember the pretty girl from KABUL EXPRESS?) has an undercurrent of emotions playing with Dilip Thadeshwar, a man who detests anything which is American before changing his views eventually.
It is not difficult to have a fun film like this turn into a sleazy affair. Danger of falling in the puddle of the likes of FUN - CAN BE DANGEROUS SOMETIMES is always there but to the credit of Manoj Tyagi, he balances the film with urban humor, lifestyle, desires and aspirations. He drops hints about racism for Western people in India, sexual preferences, career decisions hampering personal life (a dialogue in the film goes - 'Jab Life Ki Aisi-Taisi Ho Rahi Ho To Samjho Career Tarakki Par Hai') and sex being considered as a cure for loneliness.
Still, none of the proceedings in the film turn preachy or come across as lectures. Humor retains itself throughout the narrative hence making the on goings easy. You don't laugh out loud with the scenes that unfold on screen but you do smile while being in complete understanding with what goes on in the mind of the protagonists.
The film has it's style of narration inspired from the likes of JHANKAAR BEATS, LIFE IN A...METRO, DIL CHAHTA HAI and TV Series FRIENDS. The urban setting is very IN and whether it is the night club MUMBAI SALSA, apartments or beauty parlors, they all are real and look good on screen.
The main area where the film suffers though is a good portion in the second half which just refuses to entertain in the same way as the breezy first half. All this while the film was embellished with funny one liners, naughty moments, real life scenarios, the works. But the film threatens to get into a serious mode after the Vir-Manjari break-up while the nervous breakdown of Neelam and the subsequent sequences at the hospital makes one long for humor to make a comeback.
Thankfully the film gets back on track and the last portions of the film make the film enjoyable. Watch out for the scene when Vir's friends break him the news about Manjari's whereabouts. Hilarious.
Vir and Manjari get maximum footage and they do complete justice to their act. They do very well and come up with a controlled performance which makes them definite candidates for many more films to come. Wonder why there was no pre-release buzz around them? Amruta as a nymphomaniac (she calls herself as 'sexually hyperactive' though) is fun to watch, what with she having variety of expressions up her sleeve. Raymond Irani is a riot as a body building gym instructor who knows a thing or two about 'what women want' while Linda is decent as well. Dilip and Indraneil hardly get much scope and do an ok job. Neelam bores while the girl who plays Vir's first girl friend is poor.
Film's background music is as young as the film itself while Adnan Sami's compositions go well with the narrative. Choreography of 'Friday' is lively though and also aids in coming out with finer details about the protagonists' lives. Dialogues are real and practical without getting filmy even once.
On the face level, MUMBAI SALSA is risky due to number of reasons. 99% of the cast and crew are fresh faces (except for Vikram Bhatt as one of the producers), more than half the film is in English and cosmopolitan crowds forms it's target audience. But guess what? These are the very risks which give it's strength to MUMBAI SALSA.
Fresh faces and a new director (Manoj Tyagi) ensure that you are always kept guessing about the way scenes will turn since the actors are characters and not (predictable) stars. Dialogues in English get that certain authenticity in the narrative which would have been diluted if translated in Hindi (Imagine a heroine mouthing 'Let's have a threesome' in Hindi)! And of course since the target audience is pretty much identified with the film defined accordingly, there are conventional Bollywood angles completely kept out.
So what do you get to see in the end? A film that takes you through the journey of '50 lakhs plus per annum earning' corporate youngsters who live a normal life with just some element of chutzpah thrown in. Of course a fast life means all luxuries at your doorsteps, wine, parties, dancing, some commitment, a few night stands and a lot of sex.