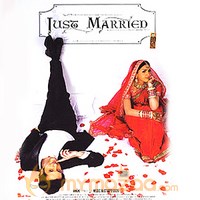 Just Married Movie Reviews
Just Married Review
by

MyMazaa.com
---
First things first. The biggest trouble with JUST MARRIED isn't about the content itself. It is about the film coming too close to SALAAM E ISHQ and HONEYMOON TRAVELS PVT. LTD., both of which were about married couples and the good and the bad times that they faced. Now JUST MARRIED could have been a completely different movie inspite of it too talking about 5 couples. But then for an audience which has already seen two films belonging to similar genre in last 6-7 weeks, it is hard to expect them to show any interest whatsoever in checking out if JUST MARRIED is anything different.
Let's come to the movie now. The fact is that it is NOT about 5 couples who are on a honeymoon to Goa. It is mainly about a newly wed couple [Fardeen, Esha] who have got into an arranged marriage and are now trying to explore each other. Other than them, the 4 couples are merely peripheral as supporting characters without being one of the leads as in the other two aforementioned films.
So there we have an aged couple out on a rendezvous again after years of togetherness [Satish Shah/Kirron Kher], a very much in love/lust couple [Bikram Saluja/Perizaad Zorabian], in-love-but-unmarried couple [Raj Zutshi/Tarina Patel] and friends-and-now-married couple [Mukul Dev/Sadidya Siddique]. They have their own stories to tell in this film (that promises to be highly entertaining but doesn't quite reach there) but the focus remains on the issue of Fardeen and Esha.
What's this issue? Well, married to each other after an arrangement by their parents, Fardeen is shown to be adjusting to the situation but for Esha it takes time to become a lover so-quick-so-fast. So she wants her own time before she hits the sack with Fardeen and he, being an understanding lot, is willing to give her that time. The only trouble? It seems to be turning out to be too late in a short 5 day honeymoon.
He does all to win her over, not just for the sheer reason of being physically close to her, but also win her heart and be a soul mate for life. He does succeed in the end but by that time as an audience you have become an impatient lot. Thankfully there are other engrossing moments happening in parallel that keep your interest alive to an extent.
To the credit of director Meghna Gulzar, she doesn't make JUST MARRIED as a high-on-histrionics film. She tries to keep it simple without getting into a lot of 'bhaashan-baazi' and aims at subtlety to drive the show. Well, at places it works, at places it doesn't. And that's because there is some kind of movement that you do expect, especially towards the middle of the second half, but you don't quite see events unfolding on screen.
This is the time when you realize that if not for the Kirron Kher-Satish Shah and Bikram-Perizaad tracks, it may have become one downer of an experience to sit through JUST MARRIED. And this is where you feel the need for Meghna interspersing additional tracks apart from Fardeen/Esha.
There are some straight from the life moments in the film that are a hallmark of Gulzar saab's movies. But again when one wishes that there could be more of them, the momentum breaks and you long for something worthwhile to happen on screen.
Towards the end of the film, just when you start feeling that the film is coming to a happy conclusion [Esha realizes Fardeen's love for her and her reciprocation for the same], the climax just kills it off. It is hard to imagine such an ending coming from a person who has been a part a family that has lived and breathed films for decades now. How could this bus-hanging-on-cliff sequence being okayed in the first place, especially by producers PNC who have always believed in making believable cinema?
The ones to benefit most from JUST MARRIED would be Fardeen Khan and Esha Deol. Other than NO ENTRY and EK KHILADI EK HASEENA, this is easily yet another good performance from the youngster who would certainly be noticed for his act. Esha Deol acts well, though her character could have had more meat, and looks like a young woman next door. She looks very much a newly wed in her sarees which make her come across well on screen.
Satish Shah, Kirron Kher and Perizaad are delightful in their parts while Mukul, Saddia, Zutshi, Bikram and Tarina are OK. Anita and Eijaz are fine in their small part. What keeps you reasonably interested in the film is Pritam's music. Songs fit in well into the situation and are quite pleasant on ears.
There isn't much push that one gets to plan for an outing to a theater and spend money on tickets and popcorns and then drive back home. Overall, JUST MARRIED is an okay-dokay movie that could just be one of yours lazy Sunday afternoon DVD watch with your spouse.