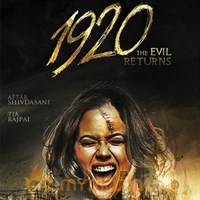 1920 Review
by

MyMazaa.com
---
An audacious auteur indeed! Director Vikram Bhatt who won rave reviews across the far-flung corners of globe for his debut directorial Raaz, is back again with a scintillating spine-chilling horror flick. Perhaps, looks like Vikram Bhatt is vividly influenced by the World's ever best flicks The Exorcist and The Others. Precisely, 1920 doesn't carry anything unique in terms of its storyline, but the exotic attributes of Horror-genre are top-notched€¦
1920 has spooky atmosphere, a wicked twist and turns and an ice-cold grabber of a performance by Adah Sharma.
Set at the backdrops of 1920, a young couple recently entered into nuptials despites life-threatening opposition from the boy's father. Arjun Singh Rathod (Rajneesh Duggal), a religious entity turns into an atheist when his family is urged to kill his wife Lisa (Adah Sharma). Arjun, an architect wizard and Lisa have to now move to exotic location of Palanpur where he is assigned to shatter down an old palace for constructing a new hotel. An excellent picturesque of new place that makes the couple feel like paradise, but there is something abnormal sensed by Lisa in this Old Haveli. These mysterious signs start haunting Lisa and much before Arjun could believe her, Lisa is already obsessed by a spirit. Here starts, the rolling waves of horrific scenario where Arjun starts assaying of settling-scores with evil spirit that his wife possesses. Indeed, Arjun has to bear the jeopardizing stunts of his possessed wife performing gymnastics. Remember, it's not just about casting away an evil spell, but there is whole lot of mysteries to be unraveled between past life of Lisa and her colligation with Old Haveli.
Don't miss out the horrific thrills; you are sure to frozen with bewitching elements that is sure to get your spines frozen. Peculiarly, the first of transfiguration of Lisa not just takes Arjun into topsy-turvy, but scares us a lot. Merely, the best part is where Lisa is pulled into a Dark black hole of a room just before interval. But makes the film so clichéd, is the bright white-bluish eyes of ghost-haunted entity. These aspects crawls down pace of screenplay and indeed getting us loose our interest. On the pars, 1920 holds several clichéd aspects of horror flicks. It's always a woman who is possessed and of course, the ghost too is a female. Thanks to Vikram Bhatt, he has a male spirit haunting the missy and perhaps, it doesn't show any mercy to the victim as in other flicks (Bhooth). Again, Arjun spots himself under the category of husbands who devotedly work on rescuing their wives. Finally, the big conversation that goes on between a religious person and a Doctor on Science Vs Supernatural issues. But, these features are locked up within short time and you have something more to watch.
Dialogues are so penchant: be it Arjun's rigid conversation with his father in the opening sequence or the conversation held between priests, but again, it would be great if the term 'Multiple Personality Disorder' is fended off.
On the technical traits, Cinematography and background score are merely enthralling. Cinematographer Pravin Bhatt spells his enchanting piece of work right throughout the film. The painted backdrops of beautiful locations of Allerton Castle in London are chilling for eyes while on the other end; he brings you the horrifying feel with unique lighting and camera angles. Adnan Sami isn't so impressive with the songs, but his background score enhances the visual quality€¦
Getting on with performance, Adah Sharma playing the victimized role steals the show with her over-the-top performance. If one does get resisted with the horrific thrills, obviously it's Adah Sharma who maintains the racy tempo all throughout the film. Anjori Alagh on her role of holding the mysterious secret exceeds our expectations. Rajneesh Duggal performs his best in the first half, but his characterization goes diminished in the latter part with Adhah Sharma and Anjori Alagh who overshadowing him.
Well, if you are on the urge of deciding the best between this film and Ram Gopal Varma's Phoonk, we are sure 1920 is over-the-top. Hats off to Vikram Bhatt, for he hasn't just penned a horror story, but has delivered the smartest work on designing powerful characterizations and best technical quality.
Verdict: Gets your adrenaline shot
Rating : ***