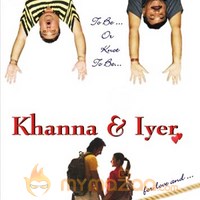 Khanna and Iyer Movie Reviews
Khanna and Iyer Review
by

MyMazaa.com
---
Are such films being made even today? That was my first reaction when someone narrated to me the plot of KHANNA & IYER. I was particularly astonished when the news came in that it was none other than Subhash Ghai who had produced the film along with Zee Telefilms.
And this is where the doubts started setting in about this debut venture by Hemant Hegde. Reason? In spite of such production houses backing the film and possibility of some hype to be created due to the lead pair [Sarvar, Aditi] being a talent show product, KHANNA & IYER has come virtually unannounced. Now that pretty much makes one start believing that no one associated with the film was confident about the product.
Well, this is all which has gone right with the film, i.e. the confidence factor (or the lack of it). Otherwise how much of an excitement does a film like this create if the plot goes like a Punjabi boy falls in love with a Madrasi girl, parents oppose, the youngsters run away, are chased by goons, face the music due to some information related to a politician in a CD, tribals ....ok, I am sure that should be all that you must be willing to take!
So here we have the kids in a Punjabi and Madrasi family respectively who think that running away would be a good idea to make a better life for themselves. Of course their respective fathers [Manoj Pahwa and Mushtaq Khan] do not find it too obvious and lodge a complaint against each other. Hey, there was another angle that was forgotten to be mentioned in an anyways complicated plot - that of 24X7 media looking for their one 'breaking news'! So they get one for them in this high profile battle between the two big-wigs!
What follows from hereon is hardly amusing or scintillating as there is just no 'dum' in the proceedings to keep you engaged. There are chases and some more chases, Khanna senior and Iyer senior keep fighting/quarrelling/debating, a comically deadly looking dacoit [Yashpal Sharma] keeps mouthing lines that are meant to be scary - but except for the Pahwa/Khan arguments, there is nothing much that keeps you engrossed in the film.
Yes, there are a few smiles that the lead pair does manage to get for you. Sarvar and Aditi were meant to have a good screen presence; after all they were a product of talent show. In that respect, they do not disappoint as they come up with a confident act. Having said that, there isn't enough meat in the script and dialogues that would create just an ideal setting for them to be the love birds that audience would love to watch on screen and get sentimental.
This is where one can't help but make comparisons with cult classic QAYAMAT SE QAYAMAT TAK. It worked because it had numerous sequences between Aamir and Juhi that made them look oh-so-much-in-love. Here both Sarvar and Aditi do try to infuse some romance, but it is the lukewarm setting and a haywire narrative that lets them down.
Music of the film is a big time downer too as Tabun Sutradhar hardly creates anything that could have become a chartbuster. Amongst the repertoire of Subhash Ghai films, KHANNA & IYER stands out as the one with the weakest music ever.
Prateeksha Lonkar as Mrs. Iyer is good once again after diverse roles she has played in films like IQBAL, DOR and HAT TRICK. Neelu Kohli as Mr. Khanna is a delight and one can comfortably say that it is the part featuring veterans in the film that is most watchable. Aroon Bakshi has traditionally been an average actor and he maintains that standard.
After watching the film, there is nothing at all that remains with you about it. There is hardly anything that one could choose and recommend someone to watch the film for. Sarvar and Aditi definitely deserved a better platform, though one hopes that in subsequent films they would be presented in a better way. Till then, KHANNA & IYER is neither for the Khannas nor for the Iyers!