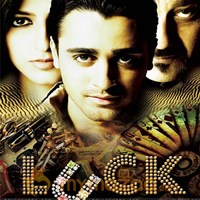 Luck Review
by

MyMazaa.com
---
This couldn't have been a perfect launch for Shruti Hassan or then a comeback for Imran Khan after a dud like 'Kidnap'. Luck can not even be called as one of those stylish flicks of Sanjay Dutt with nothing new to offer in terms of story, acting, action or even style.
Sanjay Dutt plays a don [Moosa] who bets on people's luck, and runs a betting syndicate internationally. Danny Denzongpa plays his assistant, Tawang who does all the ground work of looking for the lucky contestants for Moosa's 20 day reality show in South Africa, only meant for the lucky ones.
Imran Khan [Ram Mehra] has his father's debt to repay, Ravi Kissen [Raghav] is a rapist officially set free, and Mithun Chakravarthy's character has great resemblance to that of Amitabh Bachchan's in 'Kaante'. And that's how these people engage in a life threatening reality show of Moosa.
However unlike any reality show Soham Shah's luck fails to engage you in it. With done to death dialogues and pathetic acting at show, one wonder even loads of luck would help the film become a success. Certain scenes in the film are a direct lift, like the one which has the contestants of Moosa's show aim at each other is directly lifted from 13 Tzameti.
Imran Khan fails to deliver more than a few bland expressions, Shruti Hassan has none of her parents acting abilities and displays only a few dead pan expressions. Worst of all Sanjay Dutt fails to create any of his cool style statements as a don; even his name 'Moosa' is too repetitive. Danny Denzongpa has been wasted with shoddy dialogues. Ravi Kissen manages to pull through his character and Mithun and Chitrashi are passable in the film.
While some of the action sequences are well directed by Allan Amin, it cannot be called as one of those films where the action is remarkable. With a not enough convincing story which relies too much on luck, bad acting by the stars in the film and not enough Bollywood masala to keep the audience put in their seat, Luck fails to spell its charm.