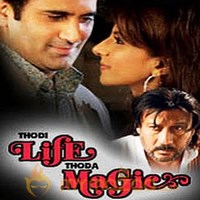 Thodi Life Thoda Magic Movie Reviews
Thodi Life Thoda Magic Review
by

MyMazaa.com
---
With much confusion this week come films with magic in their titles so please note: THIS IS NOT A YASHRAJ FILM. This film produced by Sahil Chaddha stars Jackie Shroff, Meera Vasudevan , Arbaaz Khan , Parmeet Sethi and Sahil Chadha himself.
The film revolves around the world of television programming. The head honcho of ITV €"Arbaaz Khan is in search of a new programme that unveils the true city of Mumbai. The writer (Meera Vasudevan) and director of the show (Sahil Chadha) are now on the lookout for the face of the show. After numerous trials, they come across M.K.(Jackie Shroff) a roadside dweller who seems to have a heart for people and the world around him. There seems to be some magic element about him.
Soon he becomes the face of a so called reality talk show where he sorts out people€™s problems. The twist in the tale comes when everything on the show is written beforehand and the show comes across more as a scam exploiting people€™s emotions. M.K.no longer wants to be part of it and wants to escape. But can he?
The film starts off pretty well showcasing life at a TV station and the numerous issues that surround them. Director Anand Rai wanted to focus on a lay man-Jackie who eventually becomes the face of the nation. To a certain extent he succeeds but falls flat in aping the famous Jim Carrey€™s €˜Truman Show€™.
From a good 1st half, the movie takes a dip with the excessive close ups of Jackie prolonged by the immense repetition of the title track. The 2nd just drags and fails to create any impact. The frustration in the characters could have been better put more concisely.
Jackie Shroff no doubt is splendid. He plays his character with ease and his expressions are tremendous. Meera Vasudevan emerges as the surprise package of this film. The talented actress of €˜Rules-Pyaar ka super hit formula€™ is just apt for the role. She emotes, delivers well and truly deserves many more films. We got a talented actress here!
Sahil Chadha, the producer of the film does a little of his hero bit and is convincing. Parmeet Sethi is ok. Harsha Bhogle comes in for a scene. Arbaaz does well.
The film requires serious editing towards the 2nd half and could have been much better. The ending of the film is ridiculous and though the core of the film lies in Jim Carrey€™s €˜Truman Show€™, director Anand Rai fails at execution.
Rating : **