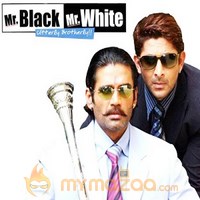 Mr White Mr Black Movie Reviews
Mr White Mr Black Review
by

MyMazaa.com
---
Deepak Shivdasani, the director of the film , may have also forgotten about Mr.Black Mr. White but graciously the movie finds its way to the theatres . For a film that stars Suniel Shetty and Arshad Warsi , you would expect it to be a crowd puller. But what if the product which has been in the making for over 3 years sounds and tastes stale?
Synposis€¦..
Gopi [Suniel Shetty], a simpleton, arrives in Goa from Hoshiarpur. His mission - to hand over a piece of land to his childhood friend Kishen [Arshad Warsi]. Kishen swindles people with a little help from his accomplice [Atul Kale], to earn enough money to educate his sibling Divya [Mahima Mehta], who's studying in London. Kishen, however, has managed to hide his profession from Anuradha [Rashmi Nigam] by cooking up an alibi of a twin brother, Hari, who's the bad guy.
Kishen avoids Gopi like he's bad news. He's not going to give up his flourishing business and travel to Hoshiarpur just to take possession of a measly piece of land. Meanwhile, diamonds worth Rs. 25 crores have been stolen by three girls, who are now holed up in Goa. Kishen traces the three girls and succeeds in robbing the diamonds. But the diamonds actually belong to a don, Laadla [Ashish Vidyarti], who has also reached Goa.
Who gets the diamonds?.....
Well, honestly who cares? Deepak Shivdasani who has been the anchor behind films such as €˜Gopi Kishen€™ , €˜Bhai€™ , €˜Krishna€™etc fails miserably with his 11th or 13th film. What he fails to realize is films with poor comedy and so called item numbers and skin show with foreign models such as Tania Zaetta don€™t appeal to the Indian audiences anymore. In fact, wonder whether this formula would even work in villages as the songs of the film too are very poor.
Screenplay by Sanjeev Duggal and Nishikant Kamat give you a head ache. Dialogues by Sanjay Pawar work out only for Ashish Vidyarthi.
Music composers of the film €"Jatin Lalit , Tuaseef Akhtar , Shamir Tandon fail to create anything impressive.
On the acting graph , Arshad Warsi and Suniel Shetty are equally boring . Tania Zaetta, Kamala Ning , Sandhya Mridul are there to add the €˜chic€™ material to the film. They hardly act and just sing around in their bikini.
Anishka Khosla is poor. Rashmi Nigam barely ok. Shehzad Khan is so fake and if there is one person who entertains you momentarily it€™s none other than Ashish Vidyarthi. Ashish returns to comedy after a very long time. His sequences involving the €œMaa€ element are hilarious.
The film seems to be tormented by difficulties right from the initial stages which can also be observed in the lack of continuity in Arshad Warsi€™s looks in the film.
On the whole, the delay in the film further enhanced by lack of promotions and a very dull script is sure to make this film a complete washout. We wish Deepak and the producers all the best for their next venture and we are sure that this failure will act as a stepping stone to their next success.