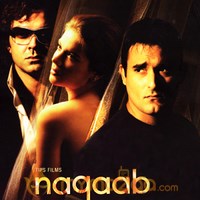 Naqaab Review
by

MyMazaa.com
---
In recent past it has become fashionable for film makers to adjudge a non-living object as one of the film's main characters. It could be a location or a train or a mobile - just about everything.
Well, Abbas Mustan have more than justified the existence of film's central protagonist - a handycam - which is more than just a character!
This handycam not just captures the moments of other three protagonists of the film - Bobby Deol, Akshaye Khanna and newbie Urvashi Sharma - it also redefines these moments. Each of the three turn out to be beneficiary of technology; each of the three also suffer from the same. Filmy as it may sound, but then it is real as it gets. Well, to get into the what, when and how affair of things, one needs a definite dekko at NAQAAB, which is easily one of the best films to have come from Bollywood this year.
This is one of those rare suspense flicks when just as a revelation seems round the corner, as an audience you just want it to go on for some more time. First 10 minutes of the movie itself gives a good enough indication of something intriguing happening round the corner. One can sense something overtly suspicious coming over but then you love the feeling of being teased around by director duo Abbas Mustan.
This is the reason why you get a plateful of climax when there is not one, not two but as many as 5-6 twists in the tale. Just when you consider yourself to be smart enough for having grasped the climax, Abbas-Mustan deceive you by making you stare on to the bigger picture. While you are digesting this twist, the fast pace ensures that there is yet another angle introduced which makes you look at the screen open mouthed in amazement.
The trend continues till the fascinating turn of sequences leave you absolutely stunned and makes you truly appreciate the beauty of a tale which is an absolute original as far as screens in Indian cinema are concerned. Well, if there is a film this year that could qualify as one helluva roller coaster, then NAQAAB is the one.
Reasons are aplenty for this. There are two things that remain consistent during each and every frame of NAQAAB - Urvashi Sharma and the handycam. While Urvashi Sharma dominates the proceedings, especially the first half, with more than 90% of the scenes showcasing her talent and assets, the handycam is a constant companion. In fact except for probably a stray extra in the background, entire Dubai seems to be carrying a handycam in tow. Well, there are reasons for that, you know!
It is this very handycam that make sure that you differentiate between what is public and what is private. There are two of these which delve into the finer details of multi-millionaire Bobby's and poor soul Akshaye Khanna's lives, another one that doesn't leave Burger-selling-Urvashi-who-would-soon-be-Mrs. Bobby alone and then there are more which are fitted in almost all of Dubai.
No, this is not some suspense that is being revealed here! In fact Abbas Mustan roll out the cards very early in the day and make you apply your brains to check out the reason behind such extensive coverage. Is it clear case of spying? Is it some revenge drama? Is it the case of everyone being gray out here? Or are they all black and evil? Is the one who is a hunter actually the one who has been hunted? Or is it the other way round?
One thing which becomes quite clear at the very beginning of the film is that this is no routine love triangle. It was not meant to be after all! Even though a couple of sequences give a MURDER deja vu, you know that there won't be panting and groaning just for titillation purpose. As a viewer you don't get a chance to feel so because the script it at a far higher level. And once the second half of the film begins, it only takes the film to greater heights with every 10 minutes.
Characters start becoming clearer, the plot thickens, blood spills and the film seems to be have come to an and. But then the classic scenario of 'what you see is NOT what you get' takes over. There is far more fun in store as the film only moves forward towards the last 20 minutes rather than ending at the point where most films normally would have.
The motive turns out to be the most unique for a Bollywood flick while the justification is just real! The pawns realize the game they had been the part of all this whereas the player truly turns out to be the King. Well, almost!
Urvashi Sharma is very good talent in the making and performs as a seasoned artist. She displays very good range in emoting and whether they are romantic rendezvous, dramatic moments, light hearted banters or tearjerker sequences, she catches the finer nuances well. She looks gorgeous throughout while her body language is consistently good. She is easily one of the best debutants to have arrived in a long time.
Akshaye Khanna is good in his part but unlike HUMRAAZ, this time around he is eaten up by Bobby Deol who has a superb second half written especially for him. Watch out for his sequences in the penultimate reels of the film and you would know why. After SHAKALAKA BOOM BOOM, JHOOM BARABAR JHOOM and APNE, this is yet another winning performance by Bobby this year.
Musically, Pritam's 'Ek Din' and 'Ae Dil' haunt dominate the background score that is excellently crafted by Salim-Sulaiman and compliments the thriller flavor of NAQAAB. Flashes and glimpses from the past continue to make an appearance while editing pattern turns over a new leaf for the team. Drama is gripping while thrills are just tout. By the time the film reaches it's crescendo, one knows that it is no ordinary thriller.
The suspense seems to be far more layered, the deceit seems to be far more engaging, the reasoning seems to be far more comprehendible while the motive is truly shocking. In nutshell, you get much more than what you would have bargained for.