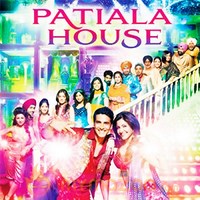 Patiala House Movie Reviews
Patiala House Review
by

MyMazaa.com
---
Patiala house is directed by Nikhil Advani after his film with Akshay, Chandni Chowk to China bombed at the box-office. It is a cricket based family-drama showcasing how difficult it is for a Sikh boy, played by Akshay, in a patriarchal set up to fulfill his dreams. Simran played by Anushka enters Akshay's life and a rebellious Akshay is reborn
Story
The story revolves around the Kahlon family, who has been living in Southall, London for the past four generations. It is ruled by autocratic and stubborn Bauji played by Rishi Kapoor. His wife is played by Dimple Kapadia. Since he is the head of the family, others have no choice but to adhere to what he says. Scarred by a racial incident that took place 20 years ago, which led to the murder of his mentor and guardian Saini, Bauji hates the British and everything that the country and its people stood for.
The dilemma, however, is that his son Parghat Singh Kahlon aka Gattu (Akshay) wants to be a cricketer and play for the British cricket team. But Gattu doesn't have the courage to stand up to his father therefore drops the idea. Then enters Simran (Anushka) in Gattu's life and brings in both courage and hope to fulfill his long cherished dream and the drama unfolds as everyone in the joint family want to pursue their dreams after watching Akshay.
Plus points
Well, this film which according to Akshay is his best performance certainly shows his potential in drama. It can be rated as his finest performances till date thus ending flops that he had faced by doing comedies. Rishiji and Anushka Sharma take the limelight in the film apart from Akshay. Music composition by trio Shankar, Ehsaan and Loy suits the mood of the film and the background scores lift the tempo of the film. 'Laungda Lashkara' is a song to watch. Camera work by Santosh Thundiyil is laudable. The most important part, direction, Nikhil Advani shows us that he belongs here as he carries out the drama perfectly.
Minus points
Certainly one won't understand the logic of Rishi Kapoor staying in the country when he hates it so much. Other members with in the joint family hardly make an impression and Dimple Kapadia is wasted in her role if not for the climax. The screen-play by Nikhil Advani and Anvita dutt is high on drama content but it feels like it is prolonged too much. Writing should have been more tight and precise and the game one feels should have been portrayed realistically.
Final verdict
Wrapping up, one will always love underdog films. Remember Jo Jeeta Wohi Sikander, Lagaan and Chak De, all these films dwelled upon how underdog makes it big and eventually worked big. Audiences do appreciate this type of cinema as they have high emotional content and it's the same with Patiala house. Go for it; watch out for chota Akshay Kumar played by Osman Qureshi, the conflict scenes between Akshay and Rishi and other eminent cricketers in the film in case you missed them on TV off late.