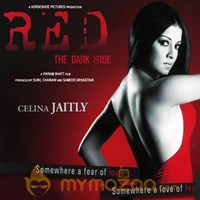 Red Review
by

MyMazaa.com
---
When the promos of RED started being aired on television, it didn't take much time to be hooked on to them. There was enough intrigue being built over the weeks and smart mixing of songs, talkie portions, teasers and promotional videos ensured that as a viewer you were left guessing about what the film was all about - in a positive way! Something which truly works for a film of this genre since for any thriller-suspense drama to work, especially shot in a noir format, it is imperative that there is not much revealed about the basic plot of the film.
As the film came closer to release, one thing was for sure. Either the film would be quite good and turn out to be one shocker in itself, or it would be one of those run-of-the-mill cinema that has been packed in a different way and sold in a glitzy manner. There was no middle road expected out of RED.
Sadly, what one gets to see is the film that belongs to the latter variety i.e. utterly lukewarm and hardly exciting. No Vikram Bhatt, expectations are much higher from you, one of the rare film makers who has worked on variety of genres over the years, and RED is certainly not your calling card after a series of box office failures.
A thriller in the offering, RED is about Neel Oberoi [Aftab Shivdasani], a billionaire and Anahita [Celina Jaitley]. But no, it is not about their meeting together and love blossoming. They meet in rare circumstances. It so happens that Neel meets with a massive accident and now requires a 'dil' for himself. As luck (or the lack of it) would have been, Anahita's husband dies and his heart comes to Neel's rescue.
With Anahita's hubby's heart in him, it was quite obvious for Neel to search for her and soon fall in lust (let's call it love) with her. A powerful mix of lust and some Himesh Reshammiya tunes later, Neel realizes that world is not as black & white as it seemed. It was Red - a color that brought with it jealousy, deceit, hatred and obsession in as much dose as love.
Dark secrets start tumbling out of the closet and Neel is informed by Anahita [and that's the key word - informed!] that her best friend Ria [Amrita Arora] was responsible for the death of her husband. Mad in lust and engrossed in love, Neel is now ready to take to crime himself. Anything for a romp on the bed and wipe away the tears of his lady-love, you know!
But is the truth really about what he knows? Or is there a bigger game out there? Is Anahita as innocent as she sounds while Ria as evil as she is made out to be?
Even reading through a basic storyline like this makes you guess right away where the film is heading. And why not? After all such scripts have been beaten to death in not just dozens of films but even Doordarshan detective serials that used to be aired more than a decade back. So how could a subject like RED would have been made an interesting cinematic experience? By giving it a different narrative!
This is what Vikram Bhatt do and succeeds to an extent as well. Telling a story in a noir format, he brings the audience at the edge of the seat in the very first few minutes of the film. A dark drama follows and you look forward to the turn of the events on the screen. Excellent cinematography and the color shades used for filming RED only makes you curious about the proceedings as it just about seems that Bhatt is back to his vintage touch - something that was prevalent in films like RAAZ, KASOOR and GHULAM where he didn't take much time in coming to the point.
Sadly, the basic plot is such that only a novice won't understand what is happening in the film. And you only end up pitying Neel for being used as a pawn all along. If only the twist in the tale would have been kept closer to the heart and there were further turns in the story, RED may just have been an interesting tale to watch.
As always Aftab does well with his favorite director Vikram Bhatt. He has done well whenever he has been used as a solo male lead for a Bhatt film [KASOOR, ANKAHEE] and he does well here too. Looking smart in his new designed persona and coming up with just the right emotions as required by his character, he proves once again that he is man who knows how and where to deliver goods.
Celina looks extremely gorgeous and her new found mantra of flouting stylishly should make her a woman of desire for many. Her innocent face coupled with a sexy bod makes her the kind of woman that Anahita could have been and if only the film as a whole would have worked, Celina would have benefited tremendously from her. Nevertheless, she makes her presence felt and comes across as someone who is quite comfortable acting (and exposing) as required by the script.
Amrita Arora looks good too and does fine in whatever little is offered to her. One had just about started believing that RED may be THE film where she would get an opportunity to go an extra distance but the script doesn't quite allow her to do so. Sushant Singh plays a quintessential cop well in a role that could have been done by anyone and everyone.
What makes RED interesting to an extent is the innovative cinematography and shot taking. DOP Praveen Bhatt wins hands down in creating a dark mood of the film and gives something new for an Indian viewer to watch. To support the noir feel of the film, it was quite necessary for cinematography to be of high quality and Praveen Bhatt doesn't disappoint in that aspect at all. Himesh Reshammiya's music is fine with 'Aafreen' and 'Ameen' being the pick of the lot. Background music is excellent and at places does remind of the style used in Sharon Stone's BASIC INSTINCT.
In the end, what you get is a feeling is dissatisfaction from RED since you were expecting a lot more from this Vikram Bhatt film. Though one would give full marks to the person(s) behind the promos of the film, one can't say the same about the film which doesn't come across as a kind of film that qualifies to be a bona fide thriller. An okay film overall, it would suffice for a DVD watch on a lazy Sunday afternoon, but that's about it.