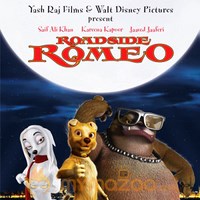 Roadside Romeo Movie Reviews
Roadside Romeo Review
by

MyMazaa.com
---
Obviously, lots of multiplexes launched should have urged Yash Raj Films to stride successfully on new genre of Animation. Indeed, the biggest production house in India joining hands with the ever best studios of Hollywood Walt Disney Pictures is a cock-a-hoop for all. With animation flicks of several foreign countries bringing home the bacon across the World, India lags far behind. Many of our Indian professionals have presented their top-notched outputs in Hollywood animation films. When it comes to Indian Animation film, none of them shored with grandeur. If you had ever thought, budget was our only constraint? Might be, but not for a greater extent. Despites, the same talented animators and greatest producers involved, many of the films are just mediocre.
Of course, 'Roadside Romeo' falls on the same lines of being an average based film. Unlike previous week's release 'Cheenti Cheenti Bang Bang', this one offers a fabulous piece of work in technical terms. Nevertheless, the film lets our hopes with middling screenplay.
Precisely, a perfect difference between animation flicks of India and Hollywood lies on this aspect. Leave out the top-charting films Lion King, Shrek, Ice Age; even the average ones like 'Meet the Robinsons' were extraordinary. You know why? A powerful narrative structure, skillfully drawn characterizations and emotional aspects got us adhered to the film.
Does 'Roadside Romeo' tread following the same formulas? Does it capture everyone's interests' or just kids? Why ask so many questions, just drive yourselves for this film and you'll merely utter 'the fantastical deliverance of animation is sure to attract kids, but nothing well to appreciate on narrative aspects'.
Glimpse through the storyline and get on with more analysis€¦
Romeo, a rich dog leads a life of complete style. He was a complete dude. He had the works - a mansion to live in, chicks to party with and the cars to be driven around in, until one day, the family he was the favourite pet of, decided to move and left him back, abandoned on the mean streets of Mumbai.
Romeo is now faced with situations he has never been in before. He encounters four stray dogs, which scare the living daylights out of him. Soon, he smooth talks his way into their hearts and becomes friends with them.
Then, Romeo finds love! He encounters the beautiful, ravishing Laila, the most beautiful female dog he has ever seen... and he loses his heart to her at first sight!
And finally, he encounters a villain! The dreaded Don of the area - Charlie Anna! The Don who everyone is scared of.
So hop on to this adventure as Romeo wins friendship, love and a new life - in spite of Charlie Anna and his gang!
Cute and beauteous story, isn't? Yup! But looks like it has been vividly inspired from yesteryear commercial films of hero falling in love, fighting with baddies and exposing his heroisms€¦ Screenplay drops down the pace right from beginning, but greatness of Director Jugal Hansraj is revealed in latter part as it has some entertaining elements.
Don't miss the Pakka- DDLJ ending sequence of train; you'll be elated to extremity€¦ Innovativeness of great direction has been showcased and it would have been nice if he had carried on rest of the film with same wavelength.
In-depth, voices rendered are absolutely top-notched. Be it Saif (Romeo), Kareena (Laila) or any other characters' voice, everyone have excelled remarkably.
On the technical areas, a perfect animation as mentioned earlier intensifies the film. But musical score by Salim-Sulaiman doesn't stand out for good credits. Perhaps, the musicians could have just worked for ne plus ultra and it's a mere disappointment from this duo.
Roadside Romeo is enjoyable at certain part for Kids, but they wouldn't be relishing all throughout with it. Flaws are blatant on screenplay and dialogues uttered by characterizations (Charlie Anna speaking in South Indian language slang) and not many vistas do really attract adults.
On the whole, 'Roadside Romeo' can be watched for exquisite animation presentations, celebrated voices and nothing else. The screenplay doesn't tread on same tempo and that stops our Romeo hitting bull's eyes.
Verdict: Can watch it once
Rating :**½