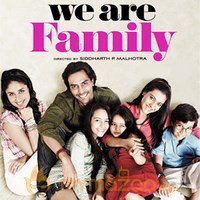 We Are Family Movie Reviews
We Are Family Review
by

MyMazaa.com
---
What is it all about?
The pioneer in Bollywood legal adaptation starts as a mature family comedy but as the reel
progress its ends up as a factory tear jerker as ordered by the Dharmas but the excellence
of Kajol and the brilliance of Kareena makes it 'hit' home.
The Story.......Of Course
Maya (Kajol) is the perfect mother. Her life revolves around her three children, Aleya
(Aanchal Munjal), Ankush (Nominath Ginsberg) and Anjali (Diya Sonecha). Despite being
divorced from her husband Aman (Arjun Rampal), Maya has ensured that everything runs
smoothly in her house, under her watch, and that they continue to remain a happy family
unit.
When Aman introduces his girlfriend, Shreya (Kareena Kapoor), a career-oriented woman, the
situation takes an unexpected turn. However, Maya is diagnosed with a terminal illness and
circumstances bring the two women under the same roof. Can two mothers make a home?
What To Look Out For?
The talented female thespians come together to earnestly jerk tears in 'We Are Family',
the combined efforts of the story writer Gigi Levangie on the original screenplay by Steve
Rogers, Karen Leigh Hopkins, Ron Bass, Venita Coelho and Gigi Levangie ensure that the
women element in the Indian adaptation gets maximum footage and the child-mother emotional
thingie gives the audience its emotional hook that should last to many fans of Kajol and
Kareena's want-to-see list especially women.
All touchy elements are here like the conflict between a super-mom and a career women the
adorably smart kids tossed about by divorce, all goody-goody surroundings, exotic locales,
the jealousy amongst the women and of course the fatal disease that triggers some noble
suffering and emotional focusing all around.
Siddharth Malhotra in his debut film shows his calibre to manage emotions and starts
effectively.
Kajol and Kareena, particularly Kajol, work overtime to make this factory tearjerker
click. Theirs is an intriguing match-up of acting styles, too: Kajol relies on her
expressive eyes to show us Maya's emotions, while Kareena conveys Shreya's uneasiness
mostly through her body language and baritone voice.
"Lets Rock" is a major highlight, well tuned, choreographed and performed by every one.
Arjun does his part with sincerity.
The kids Aanchal Munjal as Aleya, Nominath Ginsburg as Ankush and especially Diya Sonecha
as Anjali are simply amazing.
'We Are Family' manages to survive mostly because Kajol and Kareena play their material
smartly. The movie's setting may be superficial and dreamy, but its female thespians make
'We Are Family' 'hit' home.
Mohanan's cinematography is a treat for your eyes. Other technical values are smart.
Production values are top class. Musically "Lets Rock" is a take home.
What Not?
Well can a promised dish with all the nutrition make you starve in the end... That's what
happens with 'We Are Family' Kajol Kareena are there and they are fantastic but the
question is will it be okay or the audience mange more... The much expected fire, conflict
between the two is surprisingly missing. The two are good in their parts no doubt but when
they come together the writer director doesn't know how to react. Strange!
The original was light hearted which ended on acceptance but this Indian adaptation takes
the mushy-mushy factory route that involves kangans, mehendis, rona dhona khona pana… Then
why the settings in Australia…?
What makes Kareena and Arjun get attracted towards each other is not explained The forced
emotions and the lazy pace with lack of interesting incidents written for Kareena to win
over the kids' heart apart from noodle fight and splashing of water and playing with
colours (how many times we have seen this) makes this family comedy as a routine soap
opera on the big screen.
Music by Shankar, Ehsaan Loy is also a let down if we ignore "Lets Rock".
Conclusion: 'We Are Family' is a factory tear jerker made watchable by the wonderful Kajol
and Kareena. A suggestion for the ladies - please don't forget to carry your
handkerchiefs.