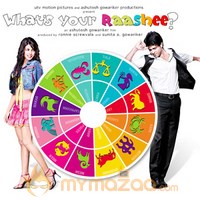 Whats Your Raashee Movie Reviews
Whats Your Raashee Review
by

MyMazaa.com
---
Turning words into pictures – the mantra hasn't been so favorable for our own B-town auteurs. Of course, glimpse through the graph of films adapted from novels, most of them had witnessed pathetic results at box office.
If it was Chetan Bhagat's 'One Night at Call centre', this year, the 'bhakra' award goes to Madhu Rye's 'Kimball Ravenswood'. Trust us! The most renowned filmmaker stumbles down from making a good adaptation. Watching a drama for 3.5hrs sans riveting moments is something throwing you for misadventures. And precisely, making your way for 'What's your Raashee?' will yield similar results.
Naturally, Ashutosh could've attempted for a small screen adaptation, which could've been split into 12 different episodes. To be precise, it would have let the producers' pockets filled with profits on numerous ad commercials.
Let's put it in simple terms, 'What's your Raashee?' doesn't carry any engrossing moments for the next 3 ½ hrs and if you're planning to save yourselves out of impatience, we have an option. Pull yourselves out of theatres in intermission.
The story centers on Yogesh Patel (Harman Baweja), a young man who in his heart has always wanted a love marriage. Till suddenly he is told that he must find his dream girl within ten days to save his family from utter ruin.
Finding the dream girl is tough enough. Finding her in a hurry is even tougher.
His solution is simple; he will meet one girl from each Raashee – sun sign, as he feels that is the best way to make sure he finds a suitable wife, while also giving himself twelve chances to fall in love. Two meetings per day gives him six days to meet them, three days to make a final decision and he can get married on the tenth day, or so he thinks.
Fine! The protagonist's plans are so perfect and indeed Madhu Rye, who penned a gripping tale. What makes the film so irksome is the fact that Ashu fails to blend the raw drama with interesting ingredients. Perhaps, Harman Baweja shows up with a matured performance. Priyanka Chopra is wordlessly stupendous on her part. Be it her enactment of jeweler's daughter or the businesswoman, she's overblown on all panoramas. But, none of these 12 characterizations overshadows her previous show in 'Kaminey'. Well, nothing impressive about rest of star-casts as they've patently performed as per directions.
Technically, the film is embellished with some laudable music and cinematography. Couple of songs is feet-tapping while choreography is top-notching.
On the final note, 'What's your Raashee?' fails to gratify in more parts and doesn't exceed our expectations. Perhaps, we would like to thank the yesteryear astrologers who limited themselves with establishment of '12 Star Signs' and not more than it. Or else, Ashu would've dragged us yet more with duration of 4.5hrs on more Raashees.