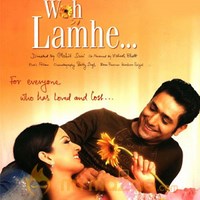 Woh Lamhe Review
by

MyMazaa.com
---
Mahesh Bhatt need not have resorted to publicity gimmicks of releasing Love Tapes of Parveen Babi in the Media before the release of his latest film. For €˜Woh Lamhe€™ can speak for itself. It is spectacular cinema. Don€™t go expecting entertainment in the conventional sense of the word and you would say €œWOW€. Director Mohit Suri has shown rare guts of telling a complicated story without bending before the so called €˜Market Demands€™. It disturbs you. Yet it absorbs you. Completely.
As is well known, €˜Woh Lamhe€™ is loosely based on the special relationship superstar actress Parveen Babi shared with struggling director of late seventies Mahesh Bhatt. In a way Bhatt has vindicated himself by admitting that he used Babi initially but then he truly fell in love with her as she slipped into the alley of unbelievable. Shagufta Rafique€™s stark-n-real screenplay and dialogues, Pritam€™s magical music score (€˜Chal Chale€™ is goose-pimple moment), Bobby Singh€™s lilting camerawork, Akiv Ali€™s spot on editing and terrific performances by the lead pair Shiney Ahuja and Kangana Ranaut (If Aamir-Kajol, Shahrukh-Rani were the toast of 2006, then add Shiney-Kangana to that list too€¦.They look made-for-each-other together).
Sana Azeem (Kangana) is a big star burning in her own captive brightness. Nikhil (Shaad Randhawa) is a superstar who doubles up as her boyfriend-pimp. She is a commodity who is brutally raped if she says no to any of his demands. Struggling (But arrogantly confident) director Aditya Garewal (Shiney) gives provoking sound bytes to the media that Sana can€™t act for her life and that she is ugly. A quick-to-boil Sana takes off her panty in a party to show that she is bold-and-beautiful and prettier from €˜inside€™ too to prove-a-point to the €˜thinking€™ director.
She agrees to act in Aditya€™s film and in a fit of rage leaves Nikhil and all her belongings. The world still doesn€™t know that she can€™t cope with her loneliness. Nor does Aditya. He wanted to make-it-big by fair-or-foul methods. While shooting for the film, Aditya notices the real tears in Sana€™s eyes while acting and he realizes that behind the glamorous diva is an insecure and lonely woman who is being used by everyone. Including him. The film is a big hit. They develop intimacy. Sana for the first time in her life feels that she has found real love. Someone who cares for what she is. After the lusty night, Aditya too like other men tells her to enjoy it all till it lasts and then forget it.
For the first time, Sana breaks down in a big way as her hallucinations about an imaginary friend Rani (Masumi Makhija, competent) stalking her comes to the fore. Nikhil, her gold €"digger Ammi and her sponsors urge the doctors to give electric shock to revive Sana out of her Schizophrenia. The only filmy thing happens when Aditya receives a parcel from Ranchi Mental Hospital with the last belongings of his unstable father who passed away the same month. Now, maybe this could have been avoided but then Aditya had to have a motive for rescuing Sana so that he doesn€™t lose her the way he lost his father more so because he never bothered about him when he was sent to the mental hospital after his mother€™s death.
In an act of recharged soul, Aditya tends for Sana in a friend€™s farm house in Goa (Initially Aditya€™s friend is shown to be living in a Mumbai apartment and then suddenly she had a huge property in Goa and was also a doctor well versed with mental diseases€¦.Stretching cinematic liberties dude€¦.). In a highly sensitive manner he takes care of her and feeds her with his own hands hence proving that when we think we know everything about ourselves, that€™s when we realize there€™s more to us.
€˜Woh Lamhe€™ is a hard hitting but sensitive portrayal of human relationships and failings. It€™s a story of survival of the fittest, to understand that it€™s a dog eats dog world and yet tomorrow€™s another day. One must find ways of being happy in life in spite of everything. And when one comes across someone who is unable to cope with the rigours of living, all we can do is at least extend a hand of compassion. That€™s what human beings are for. And that€™s what makes us superior as compared with the animals.
€˜Woh Lamhe€™ is a fantastic film. Very poetic in nature. With a cathartic ending. It may not set the Box Office on fire but it€™s commercial fate won€™t be discouraging for the producers either. It€™s a film for a mature audience that loves to watch quality on celluloid. After €˜Gangster€™, €˜Woh Lamhe€™ establishes the credibility of Vishesh Films for churning out €˜different€™ kind of cinema. Cinema that entertains, provokes debate and cinema that makes you think.
Woh Lamhe: Admirable Cinema